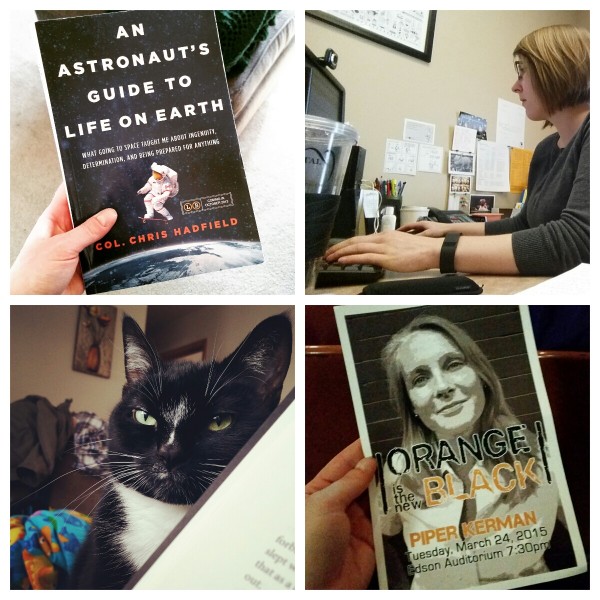 Time and Place | Just after 10 a.m. sitting on my couch. We had friends over last night and ended up hanging out with them until far past my bed time… it's been a slow morning.
Reading | It's been a good week of reading! I spent most of the week reading That's Not English by Erin Moore, a book looking at differences in language and culture in the United States and England. I liked it a lot. After that, I picked up An Astronaut's Guide to Life on Earth by Col. Chris Hadfield, a memoir by a retired Canadian astronaut who most recently served on the International Space Station. It was also really delightful. At the moment, I'm finishing up a young adult novel, The Walls Around Us by Nova Ren Suma, all about ballerinas and prisoners. It's a little paranormal and creepy, but also great.
Not Reading | Last week, I mentioned that I started Overwhelmed by Brigid Schulte, but reading it was making me feel anxious. A couple of people asked about that in the comments, so I thought I'd elaborate. One of my "genre kryptonites" is books about time management, especially motherhood and time management. I don't have kids, but reading about it is one of the ways I'm helping myself think about whether I want kids or not. The first few chapters of Overwhelmed were filled with these rushed stories about mothers running late and working constantly and ferrying kids around that made me want to bury my head in the sand… so I returned it to the library.