Hooray, the second Monday Tally! Since I was paying attention, I have quite a few more articles and things to think about for this week.
by Robert Niles at the Online Journalism Review — I subscribe to OJR, and read it once in awhile. This blog post isn't really an article, but I found the comments about the relative importance or unimportance of journalism school informative. I went through most of them when I was trying to decide if I was going to, and ultimately I figured the contacts and training in journalism theory that I can get from J-school will be helpful as I try to move ahead in a business that can be difficult to get into. However, I do agree with most of the posters that important skills and experience come from being in the field, which is why I've done as many internships as I have. In any case, it's an interesting discussion for journalists and aspiring journalists to think about.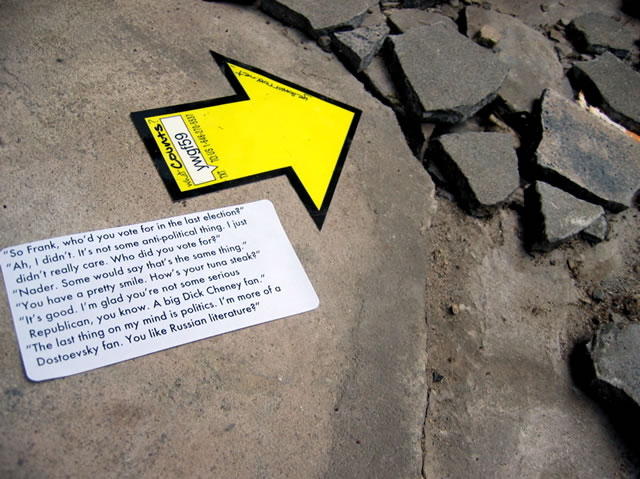 I came across this site while as I was reading Convergence Culture by Henry Jenkins. Convergence Culture is about the ways in which old and new media are starting to interact with each other, and Jenkins cited Yellow Arrow as an example of how people are co-opting traditional media and making it their own. Members of Yellow Arrow post yellow arrows at various places, then register some sort of digital content to that arrow. If you come across an arrow, you type in the a code and receive whatever digital secrets someone left behind.
by Kristin Kalning on MSNBC.com — This article is an interview with author and journalism professor David Hadju, who just published The Ten-Cent Plague: The Great Comic-Book Scare and How it Changed America. The article discusses "violence in art, the importance of diversity to the success of the comic-book industry and the function of culture 'to kick parents in the ass.'" I thought the most interesting parts for me were the idea of comics as a way to create youth culture and the comparison between comics as a transgressive force in the 40s and 50s and video games today. Hadju, correctly I think, is hesitant to make too many comparisons, except in that comics and video games come from a similar pattern of youth challenges to their parents value systems.
by Jessica Bennett and Jennie Yabroff at Newsweek — I don't usually read Newsweek, but I happened to come across the magazine open to this article on my kitchen table at the end of last week. Bennet and Yabroff explore a newish phenomenon of "Geek Girls": women that "are challenging the notion of what a geek should look like, either by intentionally sexing up their tech personas, or by simply finding no disconnect between their geeky pursuits and more traditionally girly interests such as fashion, makeup and high heels." I'm not sure how new this is, I feel like I've been a nerd while still being a girl for quite some time, but it's nice to see someone acknowledging how it's possible to be smart and feminine at the same time, and also be feminine while being involved with different hobbies.