Right now, I have four books in progress, and just bought two more at Borders today. I really want to start finishing things, but I have such a distracted personality at the moment no book holds on to me long enough for me to make any real progress. That, and I don't have much time to read at the moment — my internship for the summer has been incredibly busy, and I just don't feel like I have any time to catch my breath.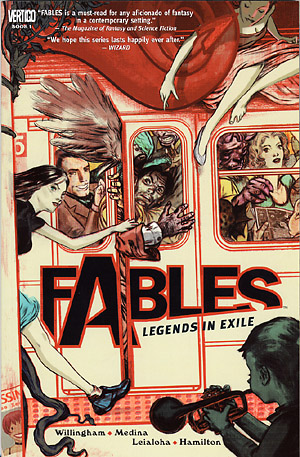 The two new books I bought today are When You Are Engulfed in Flames by David Sedaris and a graphic novel called Fables: Legends in Exile by Bill Willingham. I got the Sedaris book because, for all his nuttiness, I do really love reading Sedaris, even though I think I prefer hearing him read his work aloud. He's going to be at the Borders I normally go to next weekend, so I may go have him sign my new book! So far, I'm not blow away by the collection, but I'm trying to reserve judgement (and also not read any other reviews) until I get finished with it. I got Fables because I've been thinking about reading more graphic novels, and because I read a good review of it on That's the Book! I haven't started it yet, but I'm looking forward to it!
The book that I've been putzing along with for the longest time has been Everything Bad is Good For You by Steven Berlin Johnson. I enjoy the book's argument that the pop culture stuff we've been told over and over again is bad may actually be helping improve intelligence, but I keep wishing the book were a little more academic. Johnson certainly is using sources, but he never cites them or gives a lot of details in his examples. It's sort of like a pop culture version of academia, which actually might be appropriate given the topic, I just keep wishing there were more. That may be why it's taking me so long, I just am not as enthused about it as I wish I were.
I did just finish Lilith's Brood by Octavia Butler, and I'm working on the review, but like I said… no time yet. Soon, I hope 🙂