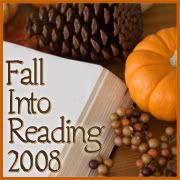 Fall Into Reading 2008 is an annual challenge hosted by Callapidder Days.  The only thing you need to do to participate is make a list of the books you want ot read this fall and post them in your blog.
To win prizes and stuff, the reading list of your choosing needs to be posted to the challenge blog by September 24, 2008, and you need to finish reading the books on your list by December 21, 2008.
Since I really, really don't have as much time to read as I wish I did, my list is pretty short.  But, here it is:
| | |
| --- | --- |
| | The Gravedigger's Daughter by Joyce Carol Oates is a book I just bought and feel like I have mentioned about 18 million times in the last three days.  It only seems appropriate that it would be part of the Fall in 2008 Reading Challenge. |
| | I have also been trying to read In Defense of Food by Michael Pollan since I bought it this summer.  I got a big chunk of it read this summer and then just dropped it for some reason.  So, before December 21, 2008 I am going to finish this book! |
| | This is going to start sounding redundant — I meant to read Persepolis by Marijane Satrapi in August for an online book club, but then with the move I never go around to it.  So, Persepolis goes on the list. |
| | I bought Villette by Charlotte Brontë last summer when I was in London, and just never got around to finishing it.  I can't remember how far I got, but it's been so long I will have to start over again.  Villette is about a woman names Lucy Snow who travels to the city of Villette to teach at an all-girls school, and is based on Brontë's experiences as a teacher in Brussles |
That looks like sort of a lame list, but it's at least well-balanced: contemporary fiction, nonfiction, comic book, and classic fiction.  Maybe I'll come back and add to it if it looks like I am going to finish before December 21.  We'll see I guess 🙂
P.S. I also learned how to use html to put a table in my post, so now I can make books and text line up the way I want them too. Sweet, huh?