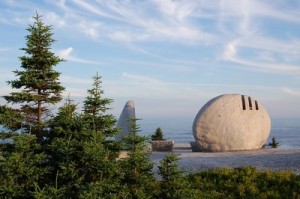 The first article I read for my class "Literary Aspects of Journalism" was "The Long Fall of One-Eleven Heavy" by Michael Paterniti, which was first published in Esquire magazine in 2000.  "The Long Fall of One-Eleven Heavy" is a reconstruction of the crash of Swissair flight 111 over Nova Scotia that killed 229 people on September 2, 1998. Although it's not exactly a pleasant read, I think everyone should read this article.  The photo at the right is a picture of the Swissair 111 memorial in Whalesback, Nova Scotia that looks out at the crash site.
The thing that struck me when I first read Paterniti's piece was how surreal it seems; it's hard to believe something this horrible could have happened, or that Paterniti was able to gather so many details to write a vivid and true account.  Remember, this reconstruction isn't fictionalized at all; Paterniti found out all of the details he used in the article.  To me, that level of reporting is just astounding.
Paterniti uses a voice that makes the whole thing seem like a nightmare more than something that could have possibly happens.  He rarely uses names, instead referring to his subjects as "the medical examiner" or "the reporter." However, he also managed to personalize the piece by spending an entire section describing the people on the plane, still without names, but with characteristics so specific they become real people anyway — "a family with two grown kids, a computer-genius son and an attorney daughter," "a woman whose boyfriend was planning to propose to her when she arrived in Geneva," or "the boxer's son."  When you read about these people you know the plane is going down, you know these people are on it, and now you know something concrete and unique about each of them.  He closes the section with these two paragraphs:
All of these people, it was as if they were all turning to gold, all marked with an invisible X on their foreheads, as of course we are, too, the place and time yet to be determined. Yes, we are burning down; time is disintegrating. There were 229 people who owned cars and houses, slept in beds, had bought clothes and gifts for this trip, some with price tags still on them — and then they were gone.

Do you remember the last time you felt the wind? Or touched your lips to the head of your child? Can you remember the words she said as she last went, a ticket in hand?
It's hard for me to describe how incredibly powerful that image is and the rest of the article is just as stirring.  It's a reflection on grief, loss, and the human capacity to try and return to normal when it doesn't seem possible.  The story is not easy to read, but once you start you have to finish it.  It's a stirring example of what really good writing and really good journalism can do.
Thoughts on this story?  Leave a comment or link to a post in your own blog and I'll connect back here!