This weeks Weekly Geek challenge (courtesy of Dewey at The Hidden Side of a Leaf) was to pair up with another Weekly Geek and do book interviews.  I was paired with Christine from She Reads Books.
Interestingly enough, we both chose to interview each other about memoirs, written by female authors, exploring cultures vastly different from their own.  I interviewed her about In the Land of Invisible Women by Quanta A. Ahmed, MD, and Christine interviewed me about All the Fishes Come Home to Roost by Rachel Manija Brown
————————————————————————————————————————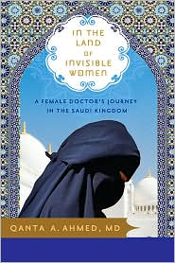 Here is my interview with Christine about In the Land of Invisible Women.
Kim: Can you give a brief plot summary of In the Land of Invisible Women?
Christine: In the Land of Invisible Women is the memoir of a British-born, American-trained female Muslim doctor, Qanta Ahmed. After being unexpectedly denied a Visa to stay in the United States, she decided — on a whim — to continue her practice in Saudi Arabia. The book is her account of the years that she spent there, before eventually moving back home to the States, after 9/11. Lots of things are covered, from her medical practise, to aspects of Saudi culture, to the growth of her faith.
Kim: Did you enjoy the book?  Why or why not?
Christine: I enjoyed it very much! I think it's safe to say that I knew virtually nothing about Saudi Arabia before reading this book, and so I found it absolutely fascinating. Ahmed is a very engaging writer, and while her prose can be a little purple, it definitely grew on me by the end. She writes eloquently, and often with great tenderness for her subjects.
Kim: Why did you decide to read this book?
Christine: This was actually sent to me to read by the very nice Danielle at Sourcebooks — so it was a case where I was offered a book, not where I went into a store and decided to pick it up. From the description, I thought it interesting enough to try.
Kim: What scene/moment was most memorable for you?
Christine: I actually really enjoyed the chapters of the book where Qanta Ahmed goes to Mecca. It's a definite turning point in her faith — and while I am not Muslim and cannot agree with many of its tenets, I feel like I understand it better now. It's a very powerful section, and she wrestles with some hard questions.
Kim: Was there anything in the book that surprised you?
Christine: Well, since I'm such an inexpert on the subject — almost everything surprised me! The whole thing was quite the eye-opener for me.
Kim: Have you read other books about women in Muslim society before?  Is this depiction similar or different from other books you've read?  How?
Christine: I haven't read much else, to tell the truth — well, there were some books in a World Lit class I took back in grade eleven or something, but I don't really remember them. The only other book I can think of off the top of my head is Persepolis, by Marjane Satrapi. That of course is a graphic novel set in Iran — so the story and the style of telling were fairly different from each other. They're both quite good, of course.
Kim: One thing that has always struck me when reading about oppressive governments like the one in this book is that, although women are the citizens more obviously oppressed, the government also punishes men pretty harshly.  Is that something you noticed in this book?  How?
Christine: I think so. One of the things that Ahmed spends some significant narrative time on is the idea that Saudi men don't really have the same outlets that Western men do. They're "emasculated" (she uses this word a lot) by the religious police, who are extremely powerful. The country is ruled by Shari'a law, and those who transgress the law can be subject to imprisonment, beheading, and the like. There's a culture of machismo/bravado, but no real manhood to support it underneath.
It's sad, really — the only outlets these men seem to have are fast cars, drugs, and alcohol — the sort of thug-ism that can be seen in many of the world's large cities (Qanta Ahmed lived in Riyadh, the capital). And there are terribly many young men dying in auto accidents.
Kim: Did this book inspire you to read more about this topic?
Christine: Yes, maybe so. I'm already set to be swamped with my school reading, but perhaps during the winter break I'll be able to pick something up.
Kim: Is there anything else important about the book that people should know?  Is there anything else you would like to add about the book?
Christine: In the Land of Invisible Women is in stores now!
———————————————————————————————————————–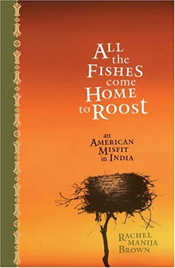 And here is Christine's interview of me about All the Fishes Come Home to Roost.
Christine: Broadly, what is All the Fishes Come Home to Roost about?
Kim: All the Fishes Come Home to Roost is a memoir about Rachel Manija Brown's experiences growing up in an Indian ashram.  When Rachel was seven, her hippie parents decided to move from California to a "spiritual commune" in India that worships Meher Baba.  The memoir is about her experience growing up as the only foreign child in a country and home that is completly abnormal.
Christine: Do you read a lot of memoirs? How does it compare to others in the genre? How is the writing?
Kim: I do read a lot of memoirs, so it's pretty easy to compare.  This memoir is unique because her childhood experience is so unlike anything I can imagine, and I suspect most people can imagine.  While I respect memoirs about all the heavy subjects, I liked this one because it was about an experience that was so unique.  Rachel's writing style is very accessible and conversational, although sometimes it gets annoying to hear over and over again what a smart kid she was.
Christine: What made you pick this book up?
Kim: My favorite professor was having a class in creative nonfiction read it, and she recommended it to me.
Christine: What was it like? Funny? Touching? Bitter? How did the author treat the memories of her childhood?
Kim: I thought it was very funny, but just a touch bitter. Even before she was forced to move to India, Rachel was an unsual kid — reading really early, not very social, just sort of out there.  You sometimes get a sense of her bitterness towards that, and towards her mother for the experience she had in India, but not too much.  More often, it's very funny because you have a straight-laced child narrator commenting on the bizarre spiritual rituals of the adults around her.  Rachel tends to be much more mature than the adults, which is a funny contrast.
Christine: What's something you learned from this book that you never knew before?
Kim: I didn't know anything about Meher Baba, and nothing about spiritual communes in India, so I did learn about those.  I also learned some about the culture of India through Rachel's eyes.
Christine: In six months, what do you think that you'll remember of All the Fishes Come Home to Roost?
Kim: I think I'll mostly remember some of the goof scenes at the ashram — people constantly chanting, holding snakes, and what not.  And, Rachel's experiences as a foreign girl in an Indian school; she wasn't treated nicely by her classmates, but I liked the way she learned to stand up for herself.
Christine: Would you recommend this book to other readers?
Kim: Yes, I really liked this book.  The narrator is likeable, the situations are interesting, and the book reads pretty quickly.
Christine: Is there anything else you'd like to add about All the Fishes Come Home to Roost?
Kim: You can read more about the book if you go to Rachel Manija Brown's website, http://www.rachelmanijabrown.com/.