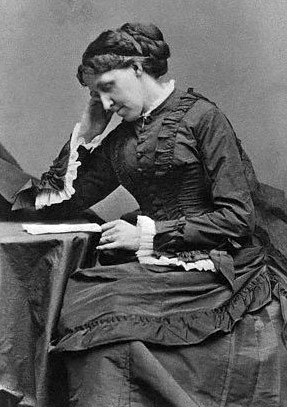 When I was a kid, my mom used to take us to the library about once every two weeks.  I read quickly, so to keep myself satiated with enough to read, I used to pick out books based on how thick they were.  That's how I first came to pick up Little Women, the biggest book in the entire children's section.
As an aspiring writer, I immediately connected with tomboy Jo, the second-oldest March daughter.  Jo was passionate and hot-tempered, refusing a marriage proposal when it didn't fit with what she wanted to do and moving to the city to pursue her writing.  Jo was modeled after Louisa May Alcott herself, so I feel an affinity towards today's birthday!
Louisa May Alcott was born on November 29, 1832 to Amos Bronson Alcott (a famous Transcendentalist) and Abigail May Alcott.  Because of her father's beliefs, the family was quite poor, and spent some time living on a commune with other Transcendentalist families.
As an author, Alcott is most famous for her 1868 novel Little Women.  The novel was followed up with Good Wives, Little Men, and Jo's Boys.  Although Jo eventually accepted a marriage proposal from Professor Fritz Bhaer, Alcott herself never married.  In an interview Alcott said she never married "… because I have fallen in love with so many pretty girls and never once the least bit with any man."
Alcott was a passionate abolitionist and feminist.  She was the first women to register to vote in Concord, Massachusetts, and often wrote about women's issues in local newspapers.  She died in 1888 from the effects of mercury poisoning.  So without further ado…
Happy Birthday, Louisa May Alcott!
This post is part of National Blog Posting Month for the month of November. You can find out more about NaBloPoMo here and view my NaBloPoMo profile page here. Thanks for reading!