Right now I'm working on a feature story about independent bookstores and how they are preparing for the holiday shopping season. One owner I talked to is going into her first holiday season owning her store and said she's excited, but also nervous because she's not sure what to expect.  Another told me he'd been forced to cut his only full-time staff member and one part-time staff member in the last month because the economic crisis has been so hard on his used book store.  These stories aren't uncommon, but they made a big impact on me as I was reporting today.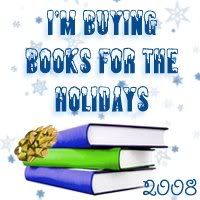 Thinking about all of these things today convinced me to for sure commit to the Buy Books for the Holidays campaign.  This effort, hosted by Amy and 10 other book bloggers, is just a quest to get people who love books to help out the book industry by buying books for the holidays this year.  It can be really hard to pick out books for people, but after speaking with the bookstore owners today I can assure you they will all be more than willing to help you find the book you need if you make the trip into their store. You can sign up for it here.
I'm sort of overwhelmed and sorting through all of the reporting I've done over the last several days, so I don't have many more coherent things to say right now.  The economy is making things tough for everyone right now, and as dippy and innocent as it sounds, I really do think little things can make a difference.  Support local businesses, make a statement with what you decide to purchase, and share our community love of books with as many people as you can.
This post is part of National Blog Posting Month for the month of November. You can find out more about NaBloPoMo here and view my NaBloPoMo profile page here. Thanks for reading!