I've mentioned at least once that one of my news assignments this semester was a story about independent bookstores getting ready for the holiday season.  I just submitted the story for consideration at a local arts magazine, so we'll see how that goes.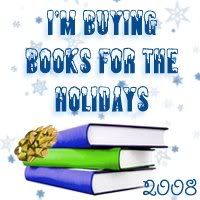 One of the things that didn't make it into the draft I sent was an e-mail interview I did with Amy from My Friend Amy about the Buy Books for the Holidays campaign.  I wanted to put it in, but it just didn't fit into the story because of the way I focused the article.  Frustrating!
But, because Amy was gracious enough to do the interview, I at least wanted parts of it to be published to help promote the campaign in the last few shopping days before Christmas.  Here is part of my Q&A with Amy about Buy Books for the Holidays!
Kim: Why did you start the Books for the Holidays campaign?
Amy: I read a lot of industry news and it would be impossible not to realize that the book industry is facing a very difficult time.  Not only are they battling an economy in crisis, but they are also dealing with a culture that is reading less and less (which makes me very sad).  I think the book blogging community is a wonderful place, and I thought…why not challenge ourselves to think outside the box a little bit and find gifts for everyone?  As a group, we blog about a great many different areas and I thought that if we all got together, we could help each other find books for everyone on our list.  If we truly value books, and we're buying presents anyway, why not make a statement about what we value with our money and our gifts?
Kim: Are there other bloggers helping out?
Amy: I organized a big blogging event in September that completely wore me out.  I knew I couldn't do this alone, so I asked several other bloggers for help.  So yes!  There are over 10 of us.
Kim: What are some objections or concerns people have raised about Books for the Holidays so far?
Amy: Mostly people have been really excited about it.  Some bloggers have said they have people that are impossible to buy books for.  My response to this is…that's why we set up a blog!  The whole idea is to get the creative ideas flowing.   Others mentioned it's not our job to save the industry.  My response to this is that we have a very powerful way to make a statement about what matters to us…our money.  And if people who love books aren't willing to do a little something extra, who will?  With so many people facing financial hardship this season, books are the perfect gift.  They cost less than many other things.
In addition to encouraging people to buy books, we are also encouraging them to donate to literacy charities for their year end giving.  It is truly my passion to see the book blogging community become proactive in supporting and promoting a culture of reading.