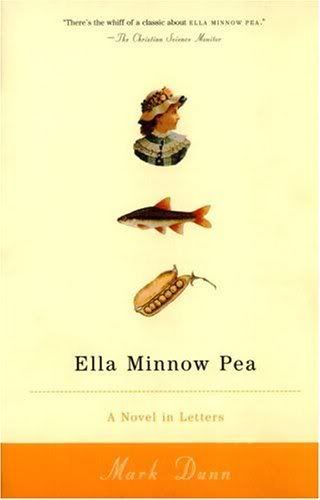 Mark Dunn's epistolary allegory Ella Minnow Pea takes place on the fictional island of Nollop, just off the coast of South Carolina.  The island was named after Nevin Nollop, the man credited with coming up with the sentence "The quick brown fox jumps over the lazy dog."
When letters start to fall off the Nollop tribute statue in the middle of the town square, the island's High Council decides that this is a divine sign from the Great Nollop and proceeds to ban each letter from being used.  When the first letter falls, "Z," the people of the island don't think much of it. But as other letters start to go, they soon see the perils of giving up anything when it comes to language.
For a book with such a simple concept, Dunn's first novel touches on a lot of important themes — totalitarian governments, the freedom of speech, and the importance of citizens to make change in their community.  Ella Minnow Pea, the novel's main character, is a feisty and dedicated person who doesn't want to give up her home in Nollop.  She stays on the island as every one of her family and friends leaves, trying to save her community.  Other acts of civil disobedience in the novel — writing a newspaper that consists entirely of a conversation between bees  after "Z" is gone or holding up "large cardboard containers of a certain recently outlawed brand of American oatmeal" when "Q" falls — are quite funny.
I thought this allegory was extremely clever.  The book is an epistolary novel (a novel consisting entirely of letters to and from characters) about the power of letters, funny right?  Like most allegories, I thought the message was pretty clear from the very beginning;  however, the plot twists Dunn uses (which I won't mention for fear of spoilers) kept the book's momentum moving even after I had figured out the "take home message" of the story.  I think this is a great, quirky little political allegory for people that love words.
Other Reviews: Rebecca Reads; Casual Dread; Fyrefly's Book Blog

If you have reviewed this book, please leave a link to the review in the comments and I will add your review to the main post. All I ask is for you to do the same to mine — thanks!