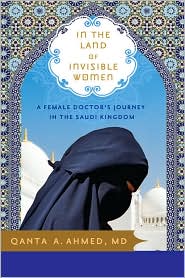 When I think about books, there are usually two qualities I think about — the strength of the story and the strength of the writing.  In most cases, both qualities are good or both qualities are bad.  This wasn't the case for In the Land of Invisible Women, a memoir by Dr. Quanta A. Ahmed.  While I liked the topic and story of the book, I found the bad writing distracting, and wouldn't recommend the book to anyone who has a problem with awkward writing.
Ahmed is a Western trained British Muslim doctor who, through problems with her visa, is forced to take a position at a hospital in Saudi Arabia after she finished her medical training.  Ahmed initially views this as an adventure and a way for her to more fully explore her Muslim heritage.  When she arrives in Saudi Arabia, she is immediately faced with discrimination and overbearing rules on behavior that the religious rulers of Saudi Arabia force on all citizens.
I've always been interested in the situation that women find themselves in religiously-controlled countries in the Middle East.  While it's disheartening to read about the many ways that men and women are oppressed in a perverse interpretation of religious doctrine, I was fascinated by the ways that the Saudi women Ahmed met during her time in the Kingdom learned to live with these oppressive rules.  In fact, I though the people Ahmed met while in the Kingdom were often more fascinating than Ahmed herself, simply because of the way that their worldview is so entirely different than mine.  It was cool to hear their voices throughout the memoir.
Unfortunately, the writing in the book is frustrating.  raych at books i done read wrote a pretty scathing review of this book that sums up the writing problem pretty clearly — "Ahmed deliberately makes her language inaccesible. Or rather, she renders with purpose her prose to be obtuse."  Ahmed is a doctor, and the book reads like it was written by a doctor.  There are way to many adverbs, the descriptions of clothing constantly rely on brand names (seriously, so many Gucci purses), and Ahmed can't seem to call Saudi women anything but beautiful.  The awkward writing distracts from the story, and I can only think that my own personal interest in the topic kept me going.  Writing like this on a topic that I was predisposed to be disinterested in would have made me put the book down.
If you like this topic, I think this memoir gives a fascinating look inside the world of the Saudi Kingdom, and what it's like to be a part of that world.  However, if the topic seems iffy to you, the writing simply isn't good enough to pull you through.
Other Reviews: books i done read; Book Addiction; She Reads Books (a book interview, review is at the bottom)
If you have reviewed this book, please leave a link to the review in the comments and I will add your review to the main post. All I ask is for you to do the same to mine — thanks!