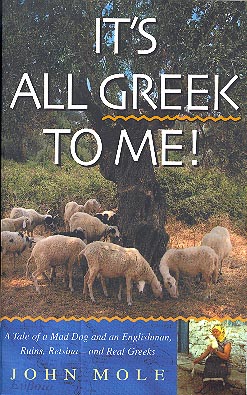 Two weeks ago a friend and I were browsing the selection at Magers & Quinn, a well-known used bookstore in the Twin Cities, when I found It's All Greek To Me by John Mole hidden away in the travel essays section.  I've always had a thing for Greece, so I picked the book up to see if it might be interesting.
I was sold on buying it after I read the last paragraph of the introduction:
Our transfer from Greece was imminent, probably to Frankfurt or Pittsburgh.  We talked of staying on or at least owning a place we could come back to.  Our dream was a little whitewashed house with a blue door and blue shutters on an unspoiled island in a picturesque village next to the beach with a taverna round the corner.  So how did we end up with a tumbledown ruin on a hillside above a village called Horio with no road, no water, no electricity, no roof, no floor, no doors, no windows and twenty years of goat dung?
The book is the story of how Mole and his family renovated a ramshackle house into a home in rural Greece.  Along the way, Mole deals with family conflict and learns more about the idiosyncrasies of rural Greek culture through his interactions with the villagers helping him with the house. Mole is enjoyably insulting and self-deprecating as the narrator.  The cast of native Greek characters are funny, without slipping into caricatures, and Mole is appropriately affectionate and honest about his family.
It's All Greek To Me was a perfect lazy Friday afternoon read that I finished cuddled up on my sofa while the windchill in Madison was about -25 F.  The humor took me away from the frigid temperatures and reminded me of why I want to travel to Greece so much. If you're in need of a quick and funny travel essay about living somewhere totally foreign, It's All Greek To Me is one you should look for.