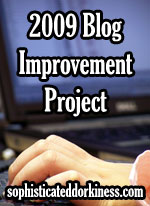 I got started on my BIP Week 4 projects last week, and although I'm only partially finished I thought today would be a good day for my own update.
I'm in the process of updating my About Me page.  I added a section of Awards (in progress) and Communities, and am going to work on the About Me text later this week if I have time.  I'm working on my blogroll, but that turned out to be a process.  I started categorizing blogs, and then trying to match my blogroll to my Google Reader, and it's taking forever because I have a ton of blogs in my Reader.  This remains a work-in-progress sort of project.
As for other maintenance, the biggest news of the week was buying my own domain name!  If you haven't already, switch your Reader or bookmarks to sophisticateddorkiness.com and use that address for links in the future — I'm very excited about it!
I've used this week to do a lot of BIP maintenance as well.  The main BIP page now just contains the calendar of activities — all the other information is nested in the links at the top of the page.  You should be sure to check out the Participants list for two reasons: 1) to make sure your blog is listed and linked correctly, and 2) because it took me forever to set up!  Also, help me out a bit and go to the Button page to get a new button my with updated URL (or you can just steal it from this post).
So that's about where I am at this week.  I hope BIP 4 is going well for all of you and have a few questions for your consideration!
What would you like to see in my About Me page?  Also, for BIP participants, would it be helpful to have a page linking to all the articles I've included in our activities so far?