After a long hiatus, I'm happy to bring you reviews of Wolves and Sons of Empire, the eighth and ninth books in the Fables series by Bill Willingham.  As I've written before, it's hard for me to review Fables because the whole thing is a series — if you liked the earlier ones, you'll probably keep reading (unless the series suddenly goes to hell).  Luckily, Fables continues to be fantastic, and these two installments are no exception.
Wolves opens with Mowgli off hunting for Bigby, who is much more elusive than you might expect.  SPOILER ALERT: Bigby is found, and persuaded to return to the Farm where he and Snow are set up with a new home. Snow and Bigby get married, finally, which was one of my favorite moments of Fables thus far.  At the same time, the leadership of Fabletown strikes out against the Adversary, consequences to be determined.  I thought the artwork in this volume was particularily lovely.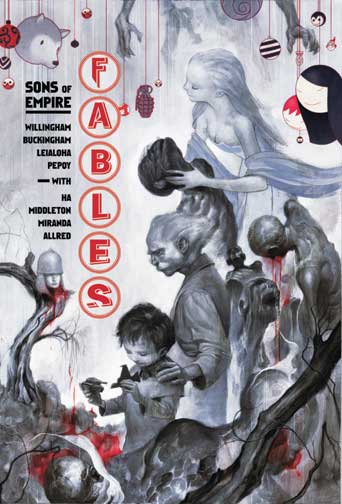 Sons of Empire is where things take a turn for the worse.  Leadership of the Adversary meet to decide what to to about Fabletown, and their plans don't look good.  The rest of the volume has some cute stories involving Snow, Bigby, and the cubs.  The little ones try to figure out what is up with Santa Claus, and the family makes a visit to try and reconcile with Bigby's father, the North Wind.
The last installment in Sons of Empire was my favorite part — Willingham invited readers to submit their burning questions about the series, then answered them in a series of short stories.  My favorite was finding out what song Snow and Bigby danced to in Legends in Exile.  Can you tell they are some of my favorite characters?  I do miss the complications and political stories they were involved with early in the series, but I like seeing them try to find domestic bliss.  I'm such a sap 🙂
So there you have it — two more volumes of Fables read and reviewed.  I've only got two more to go before I've caught up with the series and will have to wait for new editions to come out.
If you're curious about the series, check out my previous reviews of Legends in Exile, Animal Farm, Storybook Love, March of the Wooden Soldiers, The Mean Seasons, Homelands, and Arabian Nights (and Days).