In last week's edition of Journalism Friday I wrote about my process of reporting and doing audio editing for my first multimedia story — a project about Art and Maral Shegonee's Kids in the Rotunda performance at the Overture Center.  This week in class we worked on photo editing using Adobe Photoshop, so I'm just going to share a few of the pictures I worked on.
The lighting in the Overture Center stage wasn't great, so a lot of the pictures I took turned out quite blurry.  I spent a lot of time this week sorting through my 200+ photos to pick out the good ones and the "artsy-blurry" ones, while eliminating the photos that were just plain bad (I have a lot of those, that's why I took so many pictures).
| | |
| --- | --- |
| | This is one artsy-blurry photo that I really like because it's well composed.  There is a clean line going from top-left to bottom right which helps the picture look more intentional. I have a lot of blurry ones like this where Maral's feet are oddly off-center so it looks like she was dancing away from me or something.  I also love the colors in this photo. |

Another issue in trying to sort through photos for a project like this is that the photos need to in some way pair up with the audio I edited last week.  We haven't gotten as far as putting the photos and audio together, but as I choose my pictures I tried to keep in mind what my 55 second audio story was about so I could find pictures that match.
| | |
| --- | --- |
| There is a section where Maral mentions going to pow wows with her father, for example, so there I want either a picture of Maral and Art dancing together or one of Art dancing with children.  I have this photo of Art doing the Fish Dance with some students at the program that might fit nicely there.  We'll see, I'm not sure yet. | |
One thing that frustrates me about photo editing is that I haven't been able to find an editing program that I like.  I think Adobe Photoshop is more complicated than I need, but something like the photo editor that came with my camera just isn't good enough.  I had to do some tricky lightening and darkening in the Fish Dance photo to even it out a bit — in the original the white parts are practically glowing and the stage is very dark.  My camera photo editor couldn't handle something like that, but without the class I took on Photoshop last summer, I wouldn't know the program well enough to get it to do what I want.  Does that make any sense at all?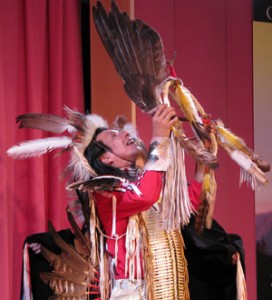 Anyway, this is just one last photo of Art dancing that I like. I still have a hard time anticipating reactions (because of the delay on digital cameras), which means I often get pictures of people making odd expressions — eyes half-closed, mouths hanging open, noses contorted or something.  I know I have to think ahead, and I am getting better, but I still am excited when I take a photo that successfully captures an expression clearly.
So there you have it, a little info about photo editing and some examples of my photography.  If you like what you see, I'm a poor grad student and could make myself available to do kids birthday parties and events for a small fee 😉