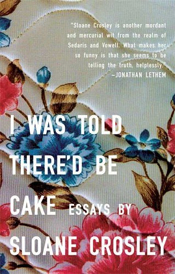 I Was Told There'd Be Cake is the debut essay collection by twentysomething Sloane Crosley.  The book covers topics as wide-ranging as Crosley's first job to a terrifying boss to Crosley awkwardly serving as maid-of-honor for a high school friend she hadn't spoken to in years.
Although various reviewers have called Crosley "a new master of nonfiction situational comedy" and the book a "welcome departure from the increasingly tired genre of first-person prose as stand-up comedy," I can't agree because I didn't like the book.
After my initial reading of the book, I just felt sort of meh about it.  I didn't really love it, but I didn't really hate it either. It's sort of the same feeling I get after finishing a Hershey's milk chocolate bar — it was sort of tasty, but I wish I'd splurged for some Godiva dark chocolate instead.
It took me until my walk to class the next morning to actually dislike the book. As I was thinking about how to write my "meh" review, I went over all the reasons why I wanted the book in the first place.  In so many ways, I should have thought this book was awesome. It's essays, it's by a twentysomething woman, it's about learning to be an adult, it's a little goofy… the whole collection is made up of things I love, what was the problem?
One huge problem, I think, is that I didn't connect with Crosley. When you write an essay collection about yourself, a huge part of the reader's experience is whether they connect with you.  I just didn't connect;  all of Crosley's essays felt like the kind of stories that you tell your college friends just to prove how cool you are, not essays that illuminate some tiny part of the human experience and that are good enough to be shared outside the circle of friends that know you. There wasn't much I could grasp on to which made most of the collection seem self-indulgent.
I'm not against self-indulgent essayists. I'm a big fan of David Sedaris,, and a lot of his writing smacks of self-indulgence. In fact, one could argue that all essayists suffer from a bit of this; you have to think pretty highly of yourself to believe that your stories and anecdotes are going to be interesting for other people to read. The different between Crosley and Sedaris is that Sedaris's essays, while self-indulgent, also reward the reader with some universal statement or bite-sized piece of relateability. Crosley never does that effectively, and the moments when she tries to feel awkward and forced.
This ties directly back to my essay discussion yesterday — good essays provide some sort of recognition or revelation. I didn't recognize much about myself in most of Crosley's essays, nor did she give me much of a revelation on anything. Even her essay about struggling to be a bridesmaid, something I myself did just about two years ago, didn't ring at all true with me because Crosley's whole attitude just put me off.
I could go on and on about this, but I don't want my review to get too far of the tracks or too mean. f you like essay collections that are sort of funny but mostly fluff, then I think you'd like I Was Told There'd Be Cake. But if you expect your books to have a little more substance, I'd skip this collection all together.
There are many other bloggers with opinions on this book — check out what some of them think: Tripping Towards Lucidity; Reading Reflections; Necromancy Never Pays;
If you have reviewed this book, please leave a link to the review in the comments and I will add your review to the main post. All I ask is for you to do the same to mine — thanks!