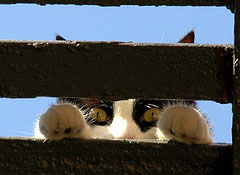 I like this picture of a kitten (by eva101 via flickr) because the cat has crazy eyes, and this post is all about feeling a little crazy and overwhelmed.
Since last Monday I've been filling in for our online reporter at work, which has involved going into work at 5:00 a.m. and writing a lot of short news stories to post online. I knew it was going to be hard, but I didn't realized how much spending that much time writing stories at a computer was going to impact my life outside work.
It's not that I've neglected my blog over the last week — I just checked and found that I posted five of the last seven days with pretty good content all of those days. What I've neglected to do is be a good member of the book blogging community.
For example, I haven't really responded to comments on my blog in a timely way, and I haven't made any effort to read or comment on other blogs. I've also been out of touch on Twitter, and haven't kept up with BIP #12 posts at all. I've just been too tired to do some of the things I love about blogging.
At first I was feeling really bad about this. I mean, I never wanted my blog to be a place where I just spewed stuff out on the internet and then never bothered to interact with the people who deemed it interesting enough to read. I think it's selfish to continually post to my blog, then not make the effort to respond or engage with all the great things other people are posting.  I felt, and still feel, guilty about that.
But I also decided I need to give myself a break.  Rather than continuing to feel guilty, I'm going to forgive myself for neglecting my role as a member of the community for the lase seven days and just try to do better. I'm going to do a "Mark All As Read" for the million posts I am behind and then try my best to keep up from now on.
My first commitment is going to be to respond to comments on my blog more efficiently. The second is going to make book blogs a top priority in my reader rather than saving them for last, because by the time I get to them I'm always tired. And my third is to make sure I'm better with the BIP and making sure people feel good about that.
I'm curious though, what do you think makes a good member of a community (the book blogging community, or another community)? To be a good, community-oriented book blogger, what should one aspire to do? Which bloggers do you think are great examples of good community members?