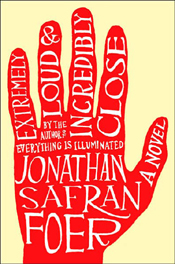 I'm not going to use my traditional review format to write about Extremely Loud and Incredibly Close by Jonathan Safran Foer because, quite frankly, the book deserves better than that. In short, I thought this was an amazing read  — it broke my heart but still managed to leave me feeling a little bit warm and fuzzy in side.
This book is mostly about nine-year-old Oskar Schell. Two years before this book starts, Oskar's father is killed in the terrorist attacks on 9/11. While going through his father's stuff in a closet, Oskar comes across a key and becomes convinced if he can find the owner of the key he'll find a message from his dad.
Foer simultaneously tells the story of Oskar's grandparents who also had their lives thrown asunder by violence during the attacks in Dresen in WWII. The book constantly switches narrators without much do explain the switches and can make the book even more complicated.
The best part about this book is Oskar. He is a smart little kid, but also damaged. His heart was broken when his dad died, and I think Oskar hides behind this quirky, liberal, vegan, unique persona he's created for himself. As he goes about his quest in the city, my heart was split between wanting him to find what he needed and wishing that someone else could find it for him so he could start to heal. He's the kind of narrator you can't help but root for.
This book is very complicated though. Foer is very postmodern, which means he writes and thinks about fragmentation and separation and feelings of isolation while using different media to draw the reader in. The book uses pictures, pages with sparse text, pages with text crowded on to it until you get this sort of disjointed and confused feeling.
I don't normally like books about 9/11. Thinking about that particular day too much hurts because of what happened and how much it's changed everything since.  I also have a hard time dealing with bad things happening to kids. So when you add those together things together and finally understand what happened to Oskar on 9/11, it's a lot to take.
I remember starting to cry about 100 pages from the end of this book and just couldn't stop. I finished, cried some more, and then calmed down a bit. Boyfriend was at my apartment was I was reading the book, so after I was calm he asked me to tell him about the story. As I tried to explain it I got all teary-eyed and started crying all over again. It was a lot, and that emotional reaction to the story has stuck with me.
But it is a lot in the best possible way. I loved this book so much. I loved it enough to make it only the second book I've reviewed on this blog to get the A+ Perfect Score Award!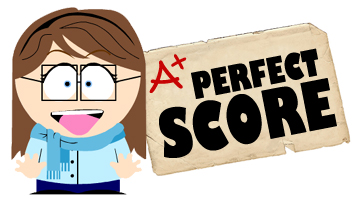 However, I grant the award with a caveat — not everyone is going to like this book. If you can't deal with fractured narrative or isolation or stories told in strange formats, you're not going to like this. But if you can accept, heck, embrace the non-traditional style, you'll be rewarded with a story that will stick with you for a long time.
Other Reviews: Lous Pages;
Rating: