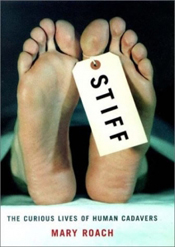 Title: Stiff — The Curious Lives of Human Cadavers
Author: Mary Roach
Genre: Nonfiction (292 pages, paperback)
Two Sentence Summary: Once a person dies, what happens to their body? A whole host of different things, it turns out, if you donate your body to science.
One Sentence Review: If you are the kind of person that likes to know about odd things and you can handle watching CSI, then you'll like this book as much as I did.
Grade: 95/100
Long Summary: In Stiff, journalist Mary Roach sets out to discover what happens to a human cadaver after death and explore the ways that, even after dead, people have made major contributions to science and our understanding of the human body.
Each chapter of the book explores a different facet of the answer, from bodies donated to human anatomy classes to bodies used for ballistics tests and new experiments about composting bodies instead of burying them. Throughout, Roach profiles the scientists who work with cadavers and tries to figure out some bigger questions about what our bodies are for after we're no longer with them.
Long Review: I really love the kind of book that teaches me a bunch of stuff about something I didn't know that I wanted to know about until the book convinced me that I did. In this case, Stiff got me totally absorbed into what happens to the human body after we die — something I am almost certain I had no interest in before reading.
The biggest question I think people will have about this book is whether it's too disgusting — that's the first thing my mom asked me when I told her a fun fact about how they sometimes use human cadavers in crash tests to see how hitting a windshield will impact the body. I told her it was a little gross, but the book is  no more disgusting than the stuff she loves watching on tv crime dramas.
The best part about the book is Roach's voice. She's funny without being mean and a little morbid without being depressing. Here's the first few paragraphs of the book to get a sense of her style:
The human head is of the same approximate size and weight as a roaster chicken. I have never before had the occasion to make the comparison, for never before today have I see a head in a roasting pan. But here are forty of them, one per pain, resting face up on what looks to be a small pet-food bowl. The heads are for plastic surgeons, two per head, to practice on. I'm observing a facial anatomy and face-lift refresher course, sponsored by a southern university medical center and led by a half-dozen of America's most sought after face-lifters.

The heads have been put in roasting pans — which are of the disposable aluminum kind — for the same reason chickens are put in roasting pans: to catch the drippings. Surgery, even surgery upon the dead, is a tidy, orderly affair.
Although it's not as apparent in that passage, I also loved that Roach approached all of her subjects — living and dead — with a sense of respect. You never get the sense that she's making fun of the scientists profiled in the book who are, admittedly, doing some pretty strange work. And she's equally respectful of the cadavers, who were, at some point, living people. I mean, she even thanks six of the cadavers she wrote about in the acknowledgments at the end of the book.
Stiff was the perfect sort of summer book for me. It was interesting to read, amusing to talk about, and left me feeling like I'd learned a little bit without trying that hard. I highly recommend Stiff for light nonfiction lovers with a slightly dark sense of humor.
Other Reviews: Rebecca Reads; bookshelves of doom; books i done read;
If you have reviewed this book, please leave a link to the review in the comments and I will add your review to the main post. All I ask is for you to do the same to mine — thanks!