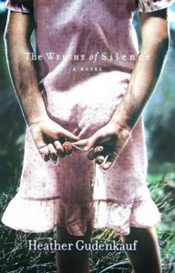 Title: The Weight of Silence
Author: Heather Gudenkauf
Genre: Fiction
One Sentence Summary: Best friends Callie and Petra go missing one morning, and the search for the girls brings out a host of secrets a small town was trying to avoid.
One Sentence Review: Gudenkauf's debut novel has a compelling plot and unique structure, but lacks some depth when it comes to the central relationship of the story.
Author's Note: I received this book for free as part of a blog tour for TLC Book Tours.
Long Summary: Seven-year-olds Callie and Petra are best friends. Callie, traumatized by an event in her past, hasn't spoken for over three years. Petra has become Callie's voice, and the girls are inseparable. One summer morning, Petra's parents wake up to find their daughter missing. When they go to see if she's with Callie, the two families discover that Callie is missing too. Fearing the worst, a search begins for the two missing girls which drives the rest of the story forward.
Long Review: I have to admit, I liked this book a lot more than I thought I would. That's not to say I didn't think I'd enjoy it, just didn't know anything about it going in and didn't expect to be as great as it was.
The feature that makes the book stand out for me is the that the story was told through multiple voices — various characters each have sections where you get to hear directly from them. I thought Gudenkauf did a great job capturing each of the unique voices, and the technique helped to show how much the different characters were not able to tell each other.
I also thought the plot of the book — the search for the two girls — was compelling and entertaining; I stayed up pretty late for a few nights in a row because I was so eager to finish the book. The mystery of their disappearance starts on the first page and doesn't really get resolved until the end. Gudenkauf sets up a number of possible scenarios for how the mystery could play out, and I didn't figure out which one it was until the end.
My one critique is that I didn't feel like there was enough to show the relationship that Callie and Petra had. We get a lot of it in flashbacks, but there aren't many scenes with the girls together. Their relationship — described as soul mates — is such an integral part of the book, but I never felt like I knew enough about it or really believed it. Petra has short sections she narrates, but Callie never narrates the story (which makes sense, given that she doesn't talk). I didn't feel like the book ever got to the heart of their relationship. However, I think this is a small quibble with a book that overall I enjoyed very much.
Other Reviews: Fizzy Thoughts; Book, Line, and Sinker; Virtual Wordsmith
If you have reviewed this book, please leave a link to the review in the comments and I will add your review to the main post. All I ask is for you to do the same to mine — thanks!
Final Note: If you're interested in this book, you can get 10 percent off from August 1 to September 15 at eharlequin.com using the code SILENCE10.