I know, I know, today is the last day of summer which means we're just squeaking our review in at the last minute, but oh well. Things got busy 🙂 Also, read (or skip) all the way to to the end for a special announcement about the future of The Sisterhood of the Summer Book Reviews.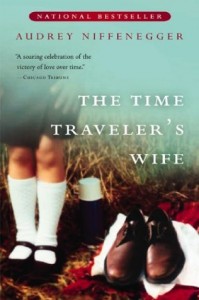 Title: The Time Traveler's Wife
Author: Audrey Niffenegger
Genre: Fiction
Summary: Claire Abshire's husband Henry has a genetic disorder that causes him to time travel without control. Claire first meets Henry when she is six and he travels back to meet her. Over her childhood and adolescence, Henry travels to Claire a number of times and she falls in love with him. When Claire goes to college, she meets Henry in "real time" and the two proceed to fall in love and try to build a life together while struggling with Henry's problematic condition.
Review: This is the third book in the Sisterhood of the Summer Book Reviews between my sister Jenny and I. Like we did with The Memory Keeper's Daughter and The Truth About Forever, we e-mailed back and forth. Here's our discussion on one of my favorite books, The Time Traveler's Wife.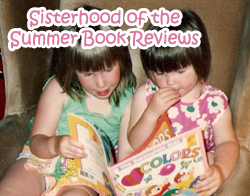 Jenny: Why is this your favorite book?
Kim: This is my favorite (fiction) book for a lot of reasons. It plays on a lot of themes about love and relationships without being cliche or simplistic. The characters always felt real to me. The first time I read the book I was an emotional wreck by the end — I knew something bad was going to happen, but I was still a mess when it did.
The other thing I love is how complex the narrative of the book is. The flipping back and forth in time and age between Henry and Claire means that the book keeps you thinking — what does each character know now that the other one doesn't? What clues does this scene give me about past scenes? Where in their relationship am I? The storyline of the book is complicated enough that I think the book would be even better on a re-read.
Kim: I'd argue this book is more literary than both books we've reviewed so far (The Memory Keeper's Daughter and The Truth About Forever). Do you agree, or do you think I'm just been snobby?
Jenny: Depends on your definition of "more literary"? How would you define a literary book?
Kim: That's actually a very good question… I had to look up a definition online, since I couldn't figure out a good way to define it myself. Here's what I found, taken from The Reader's Advisory Guide to Genre Fiction by Joyce G. Saricks:
Literary Fiction is critically acclaimed, often award-winning, fiction. These books are more often character centered rather than plot oriented. They are provocative and often address more serious issues. These are not page-turners, per se, although their fans certainly find them engrossing and compelling reading. As we defined the genre in Reader's Advisory Service in the Public Library, these are 'complex, literate, multilayered novels that wrestle with universal dilemmas.'
So there's a definition of literary — go!
Jenny: I would agree that it is more literary, but if you look at the definition there are parts of both books we already read, especially The Memory Keeper's Daughter, that I would argue makes them more literary than other books out there, and if you won't agree to that you might be a little snobby.
In The Memory Keeper's Daughter characters are more important than plot to the story and the story and plot is based on human relationships and the way that these people react to the single event in their lives. (I would also argue that in some ways The Truth About Forever does this as well, though not nearly as elegantly). The point that the book makes about provocative story lines could also be applied, and the serious nature of the topic makes the book darker.
If we are talking about these books being literary, I would just like to mention that I never thought or would have argued that The Truth About Forever was a literary book except to say that it is more literary than many other YA fiction that is out there.
Jenny: Would you agree with my assessment of these books?
Kim: I think those are fair assessments, although I'd argue with you about The Memory Keeper's Daughter a little bit in terms of characters and plot. Without the plot point that the doctor splits up the twins, the rest of the book doesn't happen. Everything centers on the choice and the implications. The characters are important, but I feel like a plot point sets that off and what sits behind all of it.
In The Time Traveler's Wife, Henry's condition is a character trait, not a plot event characters have choices about. It just is, and the characters go about life trying to deal with it, the same way you might deal with someone who has anger issues or someone who drinks to much. So, I'd say The Time Traveler's Wife deals with character more than plot.
I also didn't find The Memory Keeper's Daughter especially provocative. It didn't make me think about anything in a radically different way, it didn't create major controversy of any kind. The issues it sort of dealt with, issues about the perception of Down's Syndrome, weren't done that well and seemed secondary to other points anyway.
I suppose though that The Time Traveler's Wife wasn't especially provocative either. At least, I can't think of a way in which I'd consider it provocative, unless maybe you want to talk about the decisions Henry and Clare make and the questions of time travel and destiny and fate. That might be provocative.
Kim: In any case, let's talk about the book more! What did you think of the book? How did you feel about the fact that time travel was simply a condition and so the author didn't spend time focusing on the scienc-y aspects of it like a science fiction writer might have?
Jenny: I thought it was a really good book (in fact I bought it just a couple of weeks ago to get free shipping my last order of text books). For me personally, I thought at first the entire concept was a little bit weird, and when they did talk about the time travel and saying it was genetic I always wanted a little more explanation then they gave in the book. Especially when they started talking about the pregnancy and how the baby kept time traveling outside of the body and said time travel was why she kept miscarrying the child.
I don't think that the lack of information bothered me from the story stand point, as much as my curious nature just wanted to know how the author would explain time travel. In terms of the story outside of time travel, it was confusing to read at first and was that way until you got far enough into the book that you started to learn some context for many of the actions and events that occurred in the beginning.
Jenny: As far as my question goes, I would like to know what your favorite section of the book was, was it the beginning before Claire and Henry had meet in Claire's chronological life, after they met (while they were dating), or after they were married when they were trying to have a baby?
Kim: My favorite part was after Henry and Claire met in Clarie's chronology because I thought it was fun to see the way Henry grew into the man Claire was in love with. I guess that went all the way through the end of the book though, since they just kept learning more about each other, but I always found thinking about what they did and didn't know about each other was interesting.
Kim: Anything else about the book you liked or disliked or want to talk about?
Jenny: No I think that is good. I enjoyed the book and now own it, so you were successful in your attempt to effect the books that I enjoy reading.
So that's that, thanks for reading our lengthy review/discussion on the merits of literary fiction. If you like reading our sister's reviews, you're in luck — we've decided to keep doing them even though the summer is over. Yay! Check back tomorrow where I'll post my first vlog which will feature Jenny and I sharing what books we decided to make each other read next!