I
f you've been living under a rock, or you read my blog outside the larger book blogging community, it's my duty to inform you that it's Book Blogger Appreciation Week. The point of this celebration is to,
… recognize the hard work and contribution of book bloggers to the promotion and preservation of a literate culture actively engaged in discussing books, authors, and a lifestyle of reading.
For me, the point of this week is to celebrate everything that is great about book blogging and book bloggers. We have a multi-faceted and dynamic online community that is able to have respectful and constructive conversations about major issues like ethics and minor issues like whether it's odd to bring a book to an amusement park. We can commiserate about bad books and frustrating friends who don't love reading and we can celebrate when a book comes along that touches our heart and changes the way we think about the world.
The very fact that an event like BBAW can be organized and implemented with very few of the organizers and participants having ever met each other in real life is a true testament to how powerful our community is. We all deserve to be celebrated. For that reason, most of my posts this week will be part of BBAW. If this bothers you, come back next week for regularly scheduled content. If it doesn't, then please join me in the celebration.
Today's Topic: Highlight Favorite Blogs
There are a ton of wonderful blogs on the shortlists which I loved visiting, but of course I have quite a few of my favorite blogs that didn't get recognized and I'm excited to tell you about them.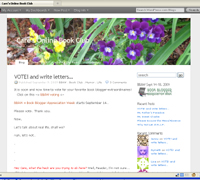 The first blogger I have to mention is Care of Care's Online Book Club. Care is easily one of my favorite bloggers, in part because she writes very funny posts and in part because I feel like we've connected despite being very different and quite far apart. She rates her books using pie slices and they're always chatty and stream-of-consciousness.  She also posts tons of pictures of her boat and her adorable puppy. Her blog is just fun to read.
I also feel like Care is a community-centered blogger without being obvious about it. For example, when I commented on her review of Geography of Bliss that it sounded awesome and I could use a happy book, she sent the book to me. When I first announced I was nominated for Best Nonfiction Review Blog and that I didn't know what posts to submit, Care sent me an e-mail suggesting some posts she liked. It's those sort of above and beyond things that make Care awesome and one of my favorite bloggers.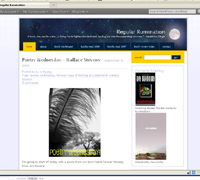 The second blogger I want to mention is Lu of Regular Rumination. Lu is a grad student like me, so I feel like we connect over that sort of experience. But even more cool is the books and features Lu posts. She does a regular Poetry Wednesday which I love reading because I get a nice dose of poetry. I love her writing style and tone — it's just easy to read and always interesting. Lu's blog is another one that I'm always sure to read.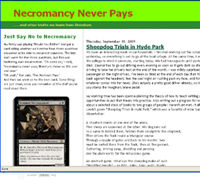 The third blogger I'm mentioning is a relatively newish blogger to me — Jeanne at Necromancy Never Pays. I'm not sure when I started reading Jeanne's blog, but isn't the name awesome? What I love about Jeanne's post is that they're contemplative and unique without being inaccessible. She did a lovely post during National Poetry Month about poetry reading techniques that I still think about when I stuck in a poem. Her recent post about Julie and Julia was the post about the book/movie that convinced me to jump in and try both.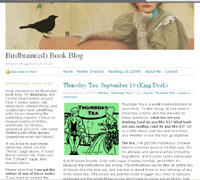 The last blogger I want to point you to is an amazing YA and YA fantasy blogger — Anastasia at Birdbrain(ed) Book Blog. Anastasia is another student blogger who reads more books that I can possibly imagine. I honestly have no idea how she does it. She loves Dianna Wynne Jones and her reviews convinced me to revisit a YA fantasy series from my teenage years (The Dalemark Quartet). I hope next year she gets a nod as the Best YA Blog because I think she's fabulous. She's also been an enthusiastic participant and discussant on Blog Improvement Project posts which I appreciate.
I can think of at least 10 more blogs to highlight as favorites, but I'm going to keep it at four this time for the sake of brevity. I hope you'll all visit these awesome bloggers when you have time and let them know what you think.