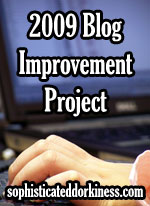 One thing that's awesome about blogs is that they can potentially live on forever. Posts you wrote a month, a year, two or three years ago even, are still out there for people to find and read. This phenomenon also presents a challenge for bloggers — making sure old content is still accurate and updated so anyone who comes to your blog sees a great post.
While this is especially true for people who comment on news or give advice, I think book bloggers can take a cue from it. That's why the BIP task for this week is to find an old post and update it. Here are a few articles with some advice on how to do that:
Interlink Your Old Blog Posts (ProBlogger) — In this post, Darren suggests updating old posts to link to other posts on your blog on similar topics. This way, readers stay on your site longer because posts give then further reading to ponder.  He gives good suggestions on how to do this, I highly recommend reading this post before you start.
How To Update Your Old Posts (Stefan Nilsson) — This post suggests a number of things you can update in your old posts including fixing links, adding new information, and linking to new posts. He also suggests making a link round up of best old posts after you've updated a few so new readers can get links to some of your old content.
Increase Page Rank by Revitalizing Your Old Posts (The Blog Herald) — This post frames the issue as one of search engine rankings, but gives a very, very long list of techniques and ideas for updating old posts. This post is another must read before you get started.
One blogging "best practice" I read about awhile ago suggested that every day you should go back to the post you wrote a year ago that same day and update it if necessary. That way, your blog will be in a sort of constant state of updating which is important since blog posts can potentially live forever. That's more work than I'm asking this time though; your task, should you choose to accept it, goes as follows:
1. Find an old post that gets a lot of traffic. If you have WordPress, this is as easy as looking at your stats and seeing the most viewed. I'm not sure if there is a way to do this in Blogger, so anyone who knows help me out!
2. Re-read the post and figure out how you might update it. Have you covered this topic again more recently? Do you have posts on similar topics? Do all the links work? Is the picture still awesome? Whatever, there are lots of ways to do this.
3. Update the post! If you're feeling excited, find a way to promote it (via Twitter, a link on your blog, something like that).
4. Come back and put the link to your updated post in Mr. Linky. I'll do a wrap up post at the end of this topic with links to all of the updated posts. (If you update more than one post, put links to all of them and all will be included).
My plan for this project, if you're interested, is to update the post that consistently gets the most traffic — a piece from last year called "Bite Me! A Feminist Criticism of Twilight." It makes me laugh that this is my most-viewed post since I didn't put any time into it; I just did an excerpt from the article and a couple of comments and frankly, I don't care about Twilight at all. Those books have almost nothing to do with the regular content of my blog.
But every week the post is consistently most viewed, most searched for, and still gets comments. I'm going to go back and, I think, add some more links to other literary criticisms of Twilight and link to my review of Twilight, but otherwise I'm not sure how to updated it. I'll take suggestions 🙂 Any I may find a few more posts, we'll see what time looks like this week.
Anyway, good luck this week! Questions, comments, concerns? Send me an e-mail or leave a comment below. I'm looking forward to reading your updated posts!
UPDATED TO ADD: Rebecca (Rebecca Reads) made a comment below saying that rewriting old reviews seemed like too much for this particular task, which is an excellent point. I just wanted to clarify that updating an old post isn't about rewriting or redoing it — it's about making sure old posts are clean so new visitors that see them don't get turned off by something as simple as a broken link or missing picture. And you should be clear about your updates if they're big in some way (like this addition — notice the "UPDATED TO ADD" note 🙂 ) Good luck!