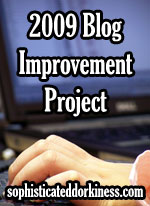 With all the excitement of Book Blogger Appreciation Week this week's BIP post slimmed my mind. However, BBAW also gave me the inspiration for the topic, so that's exciting.
One thing that's become out of control thanks to BBAW (in a good way) is my blog reading life. How on earth do I keep track of all the blogs I want to read, and is there a way to help me make sure I'm commenting on blogs as much as I want to?
This topic came up during Maw Books Bloggiesta with a Clean Up Your Feedreader mini challenge by Rebecca (The Book Lady's Blog). I found that post quite helpful, so I urge you to check it out. Another pair of posts I recently found were Decluttering Your Feedreader and Organizing Your Feedreader from Organizing Your Way.
The task for this week isn't so much a task as a discussion. I want us to talk about tips, tricks, and best practices for organizing your reading life. If you have a blog post on this topic (or want to write one), feel free to leave a link in the comments and I'll add it to the post. Otherwise, let's just chat back and forth in the comments on this post and see what other bloggers have to say. Feel free to reply to others and use the "Subscribe to Comments" link under the comments to keep track of the conversation.
Once you feel inspired and read to make some changes to your feedreader, if necessary, go ahead and do that. Come back and report on your progress, sharing any good tips and tricks you discovered during the process. Good luck!