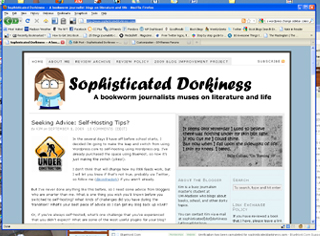 If you're reading this post in an RSS reader, that's good — it means my feed moved over when I spent the last few days moving my blog to being self-hosted. If you're reading this in your RSS reader, it also means you should click on through and see the new design for my site!
Note: When the site opens the first time, it tends to look wonky. Just refresh the page and things should look as they do in the screen shot at right, except bigger, and stuff.
The Nuts and Bolts
Although there are a ton of free themes for WordPress powered blogs, I just couldn't find one that I wanted AND that I could edit easily. So, I went with a premium, paid theme I've been coveting for awhile called Thesis.
The nice thing about Thesis is that a lot of the customizing (fonts, number of sidebars and locations, pages, etc.) can be edited without ever going into the PHP or CSS for the theme. And if you know any PHP or CSS, the customizing options are practically unlimited. Plus, there are great support forums and a lot of specific tutorials on how to edit the theme further.
On the downside, Thesis did put me back $87. However, I use this blog semi-professionally — I put it on my resume when applying for journalism jobs to show I'm tech-savvy and familiar with social media — so the money was an investment (or so I keep telling myself!).
Site Features
Above the right sidebars is a multimedia gallery which, for now, is rotating a couple of images with quotes I enjoy. I'm still not sure what to do with this section long-term, but it's a cool feature of the blog.
I made the custom header in Photoshop, using a character from the South Park Studio. It's pretty minimalist, but for now I like it.
Threaded comments for old posts got lost in the move, but they should be back for new posts. And my replies (as the author) will be in a different color, just so ya'll know who I am 🙂
For now, I elected not to include a blogroll, partly because those links didn't make it over in the move. However, I found out via a discussion on blogrolls at BethFishReads that there is a widget you can add that will include shared posts from Google Reader. Installed that and plan to use it as a blogroll, as well as do a better job of highlighting posts from blogs I like here and via Twitter.
My Ongoing To-Do List
Fix up my sidebars. There are a few widgets in them, but I want to add more… I'm just not sure what. Suggestions welcome!
Add links to Twitter/RSS/Delicious on the front page.
Keep updating plugins. I have a number done already, but I have to figure out what they do and which ones I could still add.
Continue to update my blogroll. This is not even close to accurate to the blogs I regularly read.
Catch up on Google Reader. I haven't read blogs in like five days, so I have some catching up to do.
Is there anything basic I forgot to add to the new site? Anything you dislike or find confusing? Anything especially cool? Add your thoughts so I can keep improving the design — this is very much still a work in progress!