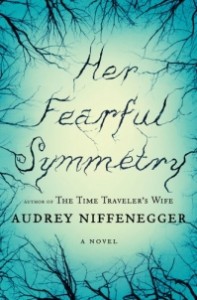 Title: Her Fearful Symmetry
Author: Audrey Niffenegger
Genre: Fiction
Two Sentence Summary: When their estranged Aunt Elspeth dies and leaves them her apartment, twins Julia and Valentina move to London. Too bad Elspeth might not actually be gone!
One Sentence Review: Although Her Fearful Symmetry isn't as emotionally intense as The Time Traveler's Wife, Niffenegger's second novel still serves up curious supernatural doings in an artfully written story.
Blogger's Note: I received a free copy of this book for review from Regal Literary.
Long Summary: Elspeth and Edie Noblin have been estranged since they were young women — Elspeth remained in London while Edie immigrated to the United States with her fiance Jack. When Elspeth dies, she leaves her London flat (located directly next to the famous Highgate Cemetery) to her nieces Julia and Valentina on the condition that the girls live in the apartment for a year. Wanting to get away from their parents, Julia convinced the more timid Valentina to go on the London adventure with her.
When they arrive, Julia and Valentina get absorbed into the strange life of Elspeth's neighbors in the apartment building — Elspeth's lover Roger Robert and her upstairs neighbor Martin. Robert is a historian working on a history of Highgate Cemetery who is struggling to get over Elspeth after she died. Martin is struggling with his own battle — a near crippling case of obsessive compulsive disorder that has caused his wife Marijke to leave him and return to Denmark Amsterdam.
The twins have always been close, mirror images of each other, but their relationships does have some some strains that living away from their parents start to make worse. Normally shy Valentina wants to spread her wings and pull away from Julia, but doesn't know how to do it. Julia wants to keep her twin close, but also wants to have adventures in their new home. And as it turns out, Elspeth might be haunting the apartment and manipulating its occupants from beyond the grave.
Long Review: When I got an e-mail offering an ARC of Her Fearful Symmetry back in August, I was really excited! I got the book in the mail after a couple weeks, but didn't get to start it right away. As I read, I found myself moving through it slowly to try and absorb the plot and enjoy Niffenenger's writing style. I got done with the book and then didn't quite know what to think, which is why it's taken me so long to write this review.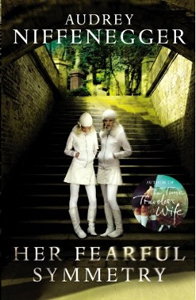 I enjoyed reading book (especially for the plot and style), but I never felt like the characters grabbed me the way I was hoping they would. I loved some of them, Martin and Marijke in particular, but I found Elspeth too manipulative, Julia too overbearing, Valentina too shy, and Robert too inconsistent. They were just hard to fall in love with. But I guess as I think back on it, the reason they were hard to love was because their flaws were so well written and developed they seemed like real people — just sort of sad and unpleasant sorts of people.
The reason I loved Martin and Marijke was because, despite their flaws, I felt like they were always working toward some positive goal. Martin's OCD is crippling — he can't leave his apartment, compulsively cleans, and demands more from Marijke than she can give him. Despite being deeply in love, Marijke has to cut herself off from him or risk losing herself. The way they try to maintain their relationship is honest and genuine. Neither one sees how they can get over their impasse, but neither one seems to give up hope for their relationship.
But even without many characters that I loved, I thought the book's plot was great and Niffenegger's prose was just beautiful. It's easy to just get caught up in the writing of the story and the great writing was probably the reason the characters tended to annoy me. Here's the opening few paragraphs to give you an idea of what I mean:
Elspeth died while Robert was standing in front of a vending machine watching tea shoot into a small paper cup. Later he would remember walking down the hospital corridor with the cup of horrible tea in his hand, alone under the fluorescent lights, retracing his steps to the room where Elspeth lay surrounded by machines. She had turned her head toward the door and her eyes were open; at first Robert thought she was conscious.

In the second before she died, Elspeth remembered a day last spring when she and Robert had walked along a muddy path by the Thames in Kew Gardens. There was a smell of rotted leaves; it had been raining. Robert said, "We should have had kids," and Elspeth replied, "Don't be silly, sweet." She said it out loud, in the hospital room, but Robert wasn't there to hear.

Elspeth turned her face toward the door. She wanted to call out, Robert, but she throat was suddenly full. She felt as though her soul were attempting to climb out by way of her esophagus. She tried to cough, to let it out, but she only gurgled. I'm drowning. Drowning in a bed … she felt intense pressure, and then she was floating; the pain was gone and she was looking down from the ceiling at her small wrecked body.
Going back though that opening again, I'm impressed with how much it represents what the book is about. There's the idea that no one in the story seems to be able to communicate; the reader knows what all are thinking and can see how they're not connecting. Here, it's because of death, but the theme runs through the book. And you see this relationship Elspeth had with the person closest to her — a man asking for children, and his female companion refusing. And the rotting and the drowning and the disgust of this hospital. This scene setting is so clear throughout the rest of the book.
Although I don't want to make to many comparisons to The Time Traveler's Wife, there are some ways that the books are pretty similar. In this story Niffenegger doesn't bother to explain why there are ghosts or give many details about the rules ghosts have to live by. We learn what Elspeth the ghost can and cannot do along with the rest of the characters so the plot doesn't get bogged down by those questions. Ghost story lovers might find that frustrating, but I didn't mind it.
The review is sort of rambling, but I think that's appropriate for how I've been thinking about this book. It had characters that were affected by flaws that made them real, even if those flaws also made them unlikable. It didn't blow my mind or break my heart the way other books I've read recently have, but it told a good story that I'll read again.
Other Reviews: Devourer of Books; Stainless Steel Droppings; The Book Lady's Blog; Books on the Brain; Yule Time Reading
If you have reviewed this book, please leave a link to the review in the comments and I will add your review to the main post. All I ask is for you to do the same to mine — thanks!