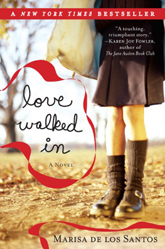 Title: Love Walked In
Author: Marisa de Los Santos
Genre: Fiction
One Sentence Summary: Cornelia Brown doesn't know what to do with her life until a real-life version of Carey Grant walks through the door and changes everything in an unexpected way.
One Sentence Review: You will enjoy this book as much as I did if you're a reader drawn to stories with poetic prose, literary references, and love stories that aren't always what they appear.
Long Summary: On an ordinary Saturday afternoon, Martin Grace walks through the door of Cordelia Brown's Philadelphia coffee shop. Martin is the sort of man that a dreamer and romantic like Cornelia would love. He has dashing good looks reminiscent of Carey Grant, money, a good job, and falls for Cornelia almost instantly.
On the other side of town, Martin's estranged 11-year-old daughter Clare Hobbs is in trouble. Her mother is in the midst of a mental breakdown which Clare is desperately trying to hide. After her mother abandons her on the side of the road, Clare has no choice but to seek out her father. Clare and Cornelia meet through Martin and the two instantly connect. The rest of the book follows the ups and downs of their friendship as Cordelia tries to figure out what she wants and if Martin is the man that can provide it for her.
Long Review: I fell in love with this book on the sixth page because of the way de los Santos uses literature and culture to show us more about her characters than she tells us. When Martin walks in the door, Cordelia declares that he is the embodiment of Carey Grant, then launches into an extended exploration of The Philadelphia Story and how that movie turns the idea of a love story upside down. From that moment I knew the book would be fascinating because I love the idea of using literature (and movies) to help tell the reader about the characters and how they view the world.
I mean, think about what that first scene says. It gives us the lens that Cordelia uses to assess everything. Martin isn't just a handsome man, he is Carey Grant. Although Carey Grant is a film icon, he's not someone who not all of us would first think of when a handsome man walks through the door. Thinking of Carey Grant shows Cordelia is the sort of old-soul romantic that hopes her Carey Grant to walk through the door and change her life. But she's also smart and knows why that may not happen, which makes her romance with Martin so interesting to read about.
At the same time, using the analysis of The Philadelphia Story up front gives us a clue that this story is not going to be a traditional love story. Cordelia says,
In college, I took a film studies class subtitled something like "Turning the Formula on It's Head" in which the professor talked about the trick The Philadelphia Story pulls off. It should never have worked: creating a fantastic love scene between two characters whom you know are not in love with each other, getting you somehow to root for them wholeheartedly during the scene, but then to feel completely satisfied when they end up with other people.

Before you get the wrong impression, you should know that I'm not and never was one of those film people, the kind who argue into the wee hours about the auteur theory and whether Spielberg is the new Capra … but I fell a little in love with the film professor when it looked upon us with shining eyes ans proclaimed, "No, it should not work . But work it does!" because he was so passionate and so right.
How beautiful is that? And how lovely is it that the story tells you straight up that it isn't exactly going to be a love story after all. In the end the book isn't really about Martin and Cordelia — it's about Cordelia and Clare.
Clare is another amazing character that I loved. As her mother's mental illness starts to decline, Clare takes it upon herself to keep it a secret. She maintains almost perfect control over her life — learning to order groceries, making sure she's perfectly dressed at school, arranging life so no one will find out she's almost alone. By the time she finds her way to Martin, and by extension Cordelia, you can't help but want things to be good for her.
The book isn't altogether perfect. There are some plot points near the end that seem, I don't know, unexpected? I didn't feel like there was enough early in the book to justify a major revelation late in the plot, but ultimately it didn't bother me too much. Although the ending isn't what I expected, I finished the book feeling satisfied that the story had turned out the way it should have.
Other Reviews: Lesley's Book Nook; Caribou's Mom; Book Addiction; The Novel World;
If you have reviewed this book, please leave a link to the review in the comments and I will add your review to the main post. All I ask is for you to do the same to mine — thanks!