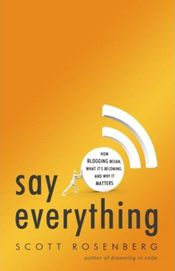 Title: Say Everything – How Blogging Began, What It's Becoming, and Why It Matters
Author: Scott Rosenberg
Genre: Nonfiction
Length: 359 pages (hardcover)
One Sentence Summary: Using profiles, interviews, and his own experience as a blogger, Rosenburg chronicles the history of blogging as a form and as an influence on society then tries to predict what might happen next.
Two Sentence Review: Rosenberg's profiles of early bloggers are interesting, but the book really hits it's pace when Rosenberg points out the dramatic way blogs have turned traditional relationships and the democratic ideal upside down. This book is a must read for anyone interested in how blogging has changed, and many of the ways it's stayed the same.
Long Summary: The first blogs were pretty basic — authors creating sites where they could share links they found interesting. The general style of blogs, link heavy with newest content on top, was a product of what worked on the internet at the time. For quite some time, no one thought blogs were going to be much of anything, much like not a lot of people thought the internet was going to be big. But blogs have gotten big, and the birth of blogs has shifted society in some huge ways. Roseburg's book seeks to highlight those changes and predict what might happen with blogs next.
Long Review: A couple weeks ago, Rebecca (Rebecca Reads) posted about her love of nonfiction. I commented that I also love nonfiction and mentioned I was reading this book. She replied,
Kim, I've always been a big nonfiction reader. A history of blogging?! I'm pretty ignorant. I'd think it would be pretty short at this point. But I've only been blogging for two years, so there you go.
At the time, her comment struck me as really interesting. For as much as I love blogging, I actually knew very little about where it came from until I read this book. And being a total blogging nerd, I found this history utterly fascinating and pretty inspiring.
Roseburg's history of blogging is very blogger-centric in that he uses profiles and stories to sell each of his points. This is not a dry or technical history of blogs; it's almost more like a series of profiles that serve as representative examples of what's happened in blogging. The profiles cover bloggers in a number of niches, and I felt like his choices accurately reflected different motivations for blogging.
Rosenburg is also a great historian for blogs. You can tell he loves blogging, but presents the history without being to much of a cheerleader (at least for me, others may disagree). And he's especially eloquent when he discusses blogs and their impact on democracy and the ability blogs give anyone to have a platform for their voice to be heard. That's what I love about blogging, so it was exciting to read about from someone far more familiar with blogs than I am.
The book also has a lot of fun facts that I got excited about. For example, Blogger was almost lost after the people who created it ran out of money — one founder had to keep the entire serve running out of his apartment. He eventually sold the company to Google for a LOT of money, then went on to found Twitter. Neat, right? There's tons of little connections and behind-the-scenes anecdotes like this one throughout the book.
I feel a little like I'm gushing, but I thought this book was really good. It's easy to read, well-organized, and the stories used to illustrate the history are well-told. If you have any interest in blogging as a form and want to know more about how it began and where it might go, I'd highly recommend this book.
Other Reviews:
If you have reviewed this book, please leave a link to the review in the comments and I will add your review to the main post. All I ask is for you to do the same to mine — thanks!