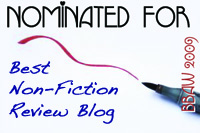 Wow! I am so excited to share that Sophisticated Dorkiness has been shortlisted for Best Nonfiction Review Blog for Book Blogger Appreciation Week. I was so excited to be nominated in the first place, and I'm even more excited to make the shortlist!
If you're new to my blog or are just curious, here are the five post I submitted to the nominating committee for consideration:
Make sure to also check out the other nominees in the category — A Striped Armchair, Citizen Reader, Nonfiction Book Reviews, and Welcome to the Hinterlands: A Narrative Nonfiction Blog — before you head over to the awards site to vote.
A big thanks should go out to everyone who has worked on Book Blogger Appreciation Week thus far — it's a huge undertaking. Make sure to get over to the site and vote for your favorite shortlisted blogs and find out about all the fun stuff that's happening for BBAW next week. Voting closes September 12, so get to it!