This weeks Weekly Geeks post was inspired by author Shannon Hale and some questions she had about book reviews and going beyond just saying whether you liked or disliked a book when reviewing.
There were three ways to respond, and I've chosen the third — to respond to six questions posed on the Shannon's original post on this topic. Here are my answers, which I've tried keep succinct so they sum up my ideas on reviewing books.
Do you find that the anticipation of reviewing the book has changed your reading experience?
A little bit, yes. I try to take notes while I read about passages I notice or things I'm thinking while I go through the book so that I'll remember them when I go review. I'm also a more conscious reader while reading to review in that I'm trying to pay attention to the things I like and don't like.
Are you rating the book even as you read? Or do you wait until the end to sum it all up?
I get some idea about my impressions of a book early on, but never fully decide on what my rating or once sentence review is going to be until I get done. I want to take the whole book into consideration before I make those choices.
Does knowing you'll be reviewing it (or rating it) publicly affect which books you pick up in the first place?
Not really. But I'm pretty good at picking out books I think I'll enjoy, so I'm never worried I'm going to hate a book. I also don't solicit or even get offered many ARCs, which I guess is a choice that impacts the books I read. I don't like writing negative reviews, so I don't go out of my way to find books I don't think I'm going to enjoy and I don't feel pressured to read and review books that everyone is writing about.
Does the process of writing the review itself change how you felt about the book?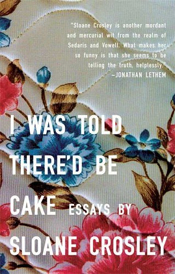 I think it sometimes writing the review lessens bad feelings I might have had. I know when I reviewed I Was Told There'd Be Cake, a book I was really disappointed in, my "draft reviews" in my head were much harsher than my written review ended up being. Writing the review didn't change that I didn't like the book, but I think it helped me figure out what disappointed me and enabled me to review it more constructively.
What is your motivation to assign a rating to a book and declare it to the world?
I tried doing "grades" for books, some score out of 100, but I don't like it. It feels to arbitrary to me and doesn't seem like it would matter to anyone else. I do have a one or two sentence review with each book where I try to sum up my feelings succinctly. I feel like that serves the same sort of function as a score or star rating might.
If you review a book but don't rate, why not? What do you feel is your role as reviewer?
This is a deceptively difficult question! Generally, I think my role as a reviewer is to let someone know enough about a book so they can decide if they want to read it or not. To do that I read the book, then think critically about what the author was trying to do and my reactions to it. In the review I try to share those reactions with people, pointing out what in the book worked and didn't work for me. On genres I'm more familiar with — creative nonfiction, memoirs, literary journalism — I try to point out some features or techniques the author used that I found cool, since I think I notice that more than an average reader might.
My hope is that after reading one of my reviews a reader will know what the book is about and have a sense if it's the kind of book that they would want to read, regardless of whether I liked it or not.
How would you answer some of these questions? Do you have a philosophy of reviewing or are you still developing one? How do you feel about ratings — do you think my "One Sentence Review" can replace a grade or starred rating?