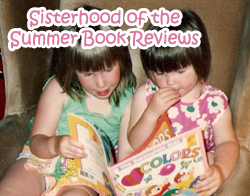 The Sisterhood of the Summer Book Reviews — a project where my sister and I read and review each others favorite books — was supposed to just be a summer thing. However, our reviews were well-received and we had fun, so we decided to keep doing reviews together throughout the year.
We saw each other this weekend, so we decided to do a vlog talking about how we thought the summer went and introducing the next books we decided to read. I am so excited, even if the video is totally awkward and the book titles are backwards because I didn't know how to adjust the settings. Enjoy!
The weird lighting is because it was day time and the sun kept peeking through the curtains. But other than bad quality, that was fun! Thanks for reading our reviews this summer and taking the time to watch our vlog 🙂
P.S. If you missed our reviews they first time around here are the links to The Memory Keeper's Daughter, The Truth About Forever, and The Time Traveler's Wife.
UPDATED TO ADD: Here's my review of The Secret Life of Lobsters from last December, if you're interested in reading why I liked this book enough to make Jenny read it.