I wasn't sure what to write about for Sunday Salon today because my reading life has felt pretty stagnant this week. But then @thebrainlair tweeted a blog post from Jim Burke at The English Teacher's Companion called Remember to Read which gave me some inspiration. The post is about why English teachers need to make time to read, even when their class obligations make it seem impossible. Burke writes,
But not reading every day — and I do not mean to equate reading with vitamins or apples! — is like not watering the plants in my garden regularly and expecting them to remain healthy or even flourish. If we do not read — a poem here, some portion of a book or article there–we will find ourselves drying out and beginning to resent our work, our kids, our life — all that prevents us from doing what we love, from being ourselves.
I feel like this particular piece of advice is not just applicable to English teachers — it applies to just about all students who wonder how they'll find the time for personal reading outside their reading and writing obligations as a student. (I know people who aren't students struggle with this too, but I'm a student so that's the context I'm thinking in right now.)
I've been thinking about this balance — school life and personal life — most of the weekend because I started classes last week. This semester is going to be very reading intensive, which makes me worry about the time and energy I'll have for personal reading. But Burke's post inspired me  — he included a whole list of tips and tricks he uses to find time to read in order to make reading for pleasure a habit of daily life (which I encourage you to go read!).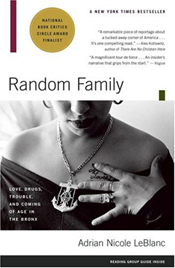 I already implement some of his suggestions. For example, I always carry a book with me when I'm out so I can sneak in a few pages before class or while standing in line. And I try to read a chapter or two of a book for fun before I go to sleep. Right now I'm in the middle of Random Family by Adrian Nicole LeBlanc. I've always had an inconsistent habit of reading before bed, but now that reading time is scarce it's much more important.
Another way I've been squeezing in some extra reading time is by reading aloud with Boyfriend. The idea started when we were driving home from a wedding last month. We couldn't find a radio station and didn't have an audio book, so I ended up reading Bonk by Mary Roach out loud in the car. We both really liked this, so we've been making time to read a chapter at a time when we have a few minutes.
We're almost done and have started looking for our next book. I'm pushing for The Center Cannot Hold by Elyn R. Sacks, a memoir on living with schizophrenia. He's leaning towards Out of Our Heads by Alva Noe, a nonfiction book about the biology of consciousness.  Once we finish Bonk, I think we'll just take a vote to pick our next book.
So that's what I've been doing this week, reading in small doses and trying to get my head back into school mode. I've got a post in draft about my books for this semester, plus some thoughts on book reviewing (via Weekly Geeks) and a review of Say Everything by Scott Rosenberg on tap for this week, so stay tuned!
How do you squeeze reading into your schedule? What's your best tip for making reading a habit when it feels like there's no time? Or for students, how do you balance work and pleasure reading without burning yourself out?