This week author Michal Pollan was in Madison for a huge series of events because his book In Defense of Food was picked for UW-Madison's first ever common reading program, Go Big Read. It feels like the whole campus has been buzzing because of his visit.
Or, it just feels like the whole campus because I've been positively steeped in Michael Pollan events since Tuesday and I'm worn out!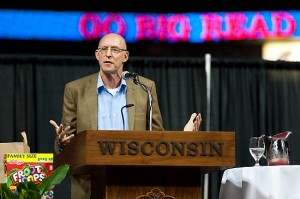 My magazine writing class is doing food writing this semester, so we were required to attend foodie events this week in order to write our first story. I wanted to write specifically about how people talk about a book like In Defense of Food, so I went to all the public events Pollan was speaking at — a speech to 7,000 people at the Kohl Center, a panel discussion to an audience of about 1,300, and his keynote at the Food for Thought Festival. Plus, I helped facilitate a small-group discussion about the book in one of the residence halls on campus. The events were a lot of fun, no doubt, but it's all a lot to think about.
I'm having a sort of mental block when it comes to trying to write about Michael Pollan and the book, which is not helping as I try to write my story! My brain is in coma from thinking about food too much, which had made it hard for me to have the energy to read something different as an antidote to all the food chatter. This has also put a damper on my reading — I don't think I picked up a book for pleasure the entire week. Ugh!
Do you ever find yourself worn out from reading about the same topic or being inundated with a particular subject? What to you use for a mental jolt to get you out of a reading coma?
Photo by Jeff Miller from UW News