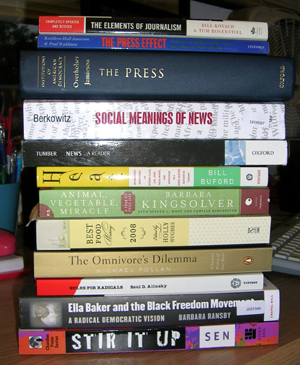 The start of a new semester brings a lot of things, but the most exciting thing for me is getting to buy all my new textbooks. It's expensive, but it's the one time of the year when I can binge on new books and actually feel justified.
This semester I'm taking a full graduate course load of three classes — Journalism in Theory, Long Form Reporting, and Community Organization and Change. That's a stack of my new books, which are so numerous they don't fit on the shelf I usually designate for school reading. I had to rearrange some bookshelves to make them fit, yikes!
Journalism in Theory
This class is about, basically, the different roles of journalism and journalists — journalists as storytellers, watchdogs, historians, etc. It's about the different ways the press thinks about what it does. We have five different books: The Elements of Journalism, The Press Effect, The Press, Social Meanings of News, and News: A Reader
Most of these are readers that include some of the most famous articles in journalism theory, which should be great since I've never done a good overview of that before. I'm not sure I'll be reviewing these, but I might write about them a bit.
Long-Form Reporting
This is the third class in my required sequence and focuses on magazine writing. The theme this year is food writing, so we'll be reading Heat by Bill Buford, Animal, Vegetable, Miracle by Barbara Kingsolver, Best American Food Writing 2008 edited by Holly Hughes, and The Omnivore's Dilemma by Michael Pollan. These are all books I've wanted to read, so I'm thrilled to get them for a class assignments. Plus, they'll be fun to review.
Community Organization and Change
This is a sociology class about community organizing (the thing that's been made famous because Barack Obama did it). I'm taking this class because I'm interested in the role newspapers play in promoting change, either as organizers or simply as an organization that can help set a community agenda or provide a public sounding board. I'm not sure exactly how that'll fit into the class themes, but we do have an option
for an independent project where I can focus on journalism. We've got one canonical sort of book — Rules for Radicals by Saul Alinsky. The rest are more anthologies and histories — Ella Baker and the Black Freedom Movement, Stir It Up, and We Make Change: Community Organizers Talk about What They Do–and Why (not pictured).
The Final Cost
So that's what my semester is looking like, book wise. I ended up buying them all online, something I don't usually do. But money was tight this semester and I saved a ton by buying used online. In total, my books cost me just over $170, which really isn't that bad considering. The would have been a lot more new or from our campus bookstore, which sucks since I like to support local bookstores when I can. Oh well, someday.
If you're a student, what class or reading are you most excited about? If you're not a student, did you have a favorite book or class reading assignment? Any of my books look especially interesting (or uninteresting!)?