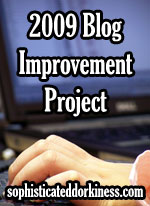 I hope everyone is feeling good about doing some feed reader organization last week. My apologies for not explaining what a feed reader was in the original post; I just assumed that people would know what that means, but of course you know what happens when you assume 🙂
This week's post also has to do with feed readers, but for a different purpose — finding out who else is talking about your blog. (You can still do a lot of this task even if you don't use a feed reader, it will just involve saving some URLs to a favorites list or something).
The task was inspired by a post by Jackie at Farm Lane Books Blog about How to get Links to Appear in Google Reader. In the post, Jackie goes through a step-by-step process of how to get a feed in your reader of links coming in to your blog. I did this following the steps and it's been great — I can easily see whenever anyone links to my blog. I know there are other ways to do this, but this method has made it really easy.
(By the way, if you're not subscribed to Jackie's blog, you really should be. She recently wrote A Beginners Guide to Joining the Book Blogging Community that is a must-read, even for experienced bloggers.)
Anyway, doing as Jackie suggested inspired me to look for other techniques to use in order to pay attention to when people are talking about you or your blog. And I found the perfect post on this topic at Problogger — Reasons to Have a Vanity Folder in Your News Aggregator.
A "vanity folder" is a folder that has a series of RSS feeds and links all related to your blog. There are many reasons to have one (written in detail in the article), but some of the important ones include engaging in conversation, tracking successful posts, and building relationships. The post then goes through some good methods for tracking references to your blog.
Your task, should you choose to accept it, is to create a "vanity folder" in your feed reader (or your favorites list in your web browser) for your blog. You should follow Jackie's great instructions, plus some of the steps in the Problogger article to do this.  And if you don't already, make sure you're subscribed to your blog's regular RSS feed. This helps me make sure posts show up the way I expect them to and helps me catch errors if I missed them. Doing all these things shouldn't take very long, but they should be beneficial.
After you've done that, spend the week paying attention to when links come back to you. If you get some interesting ones, please stop back and leave a comment — we all would like to know if this works!
Questions, comments, concerns? Leave a comment or send me an e-mail. Good luck and have fun peeking in on the conversations about your blog!