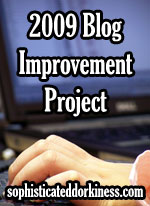 One of my favorite weeks of the entire year is Random Acts of Kindness Week. While the one for 2009 already passed, and 2010 isn't until February 15-21, I've been thinking about kindness a lot lately and felt like I could make it part of the Blog Improvement Project.
This weeks BIP task is to commit a random act of kindness. While I think this is a good idea just because it's a nice thing to do, there are blogging benefits to being kind online.
This first article — Don't Be a Greedy Blogger — is about building good blogging karma by doing things like providing useful comments, interviewing and promoting other bloggers, or asking another blogger for help when you don't know the answers.
The second, What Have I Done For You Lately, talks about how blogging is about building relationships and you can't expect people to help you out unless you've made an effort to be interactive with them. It's a little more self-interested than random acts of kindness, but brings up some good points.
This last one, 10 Simple Ways to Show Kindness Online is a little obvious, but has some good reminders about how simply saying thanks or acknowledging someone else being nice is a good act of kindness.
The task this week is pretty broad, but that's because I think kindness can come in lots of forms and I don't want to limit anyone by saying what counts as an act of kindness or not. The most important part is to be genuine with what you do and make sure that it's above and beyond what you'd normally do (since we're specifically focusing on being kind).
These are just some ideas about what might work – implementing, as always, is up to you.
Leave suggestions in the comments on this post of specific ways to be kind to other bloggers — I have certainly not thought of an exhaustive list.
Send an e-mail to a fellow blogger. Be genuine with your compliments or thanks or whatever.
Write a post thanking specific bloggers who have been kind to you recently. Write a post highlighting some blogs or posts you've found inspirational or interesting lately.
Be sure to thank everyone who mentions or links to you (as best you can).
Share your random acts of kindness with me — they can stay anonymous, but if there are enough of them I'd like to do a wrap up post (for real this time!)
So, go forth and do good work. I hope the blogosphere will be filled with kindness over the next couple of weeks. Questions, comments, or concerns? Shoot me an e-mail or leave a comment here.