The "In Real Life" book club I'm a part of meet on Tuesday to talk about The Djinn in the Nightingale's Eye by A.S. Byatt. The book is a collection a short fairy stories that we generally enjoyed, although we didn't have a lot to say about it. I'll have a review of the book up sometime soon, I hope 🙂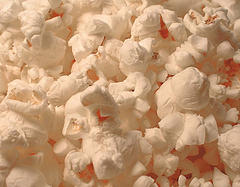 But when we went to decide on our next book, we ran into some questions. One person suggested we pick a book and movie combination. This was a great idea, but when it came to picking we had a really hard time!
I mean, we thought of some of the recent obvious book to movie adaptations — Atonement, Revolutionary Road, The Reader — but we kept discovering someone in the group had already read the book.We also briefly considered Little Children by Tom Perrotta and About a Boy by Nick Hornby, but I can't remember why we didn't choose those.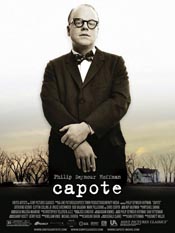 The pair we eventually decided on was Capote in Kansas: A Ghost Story by Kim Powers paired with the recent Truman Capote movie starring Phillip Seymour Hoffman. One person in the group has already read In Cold Blood, but the rest of us are going in with just a little background. I'm excited to see what happens — my copy of the book is already in the mail, yay!
But here's where you all come in! If this book/movie pairing goes well, I think we'll want to do it again. Since I don't read a ton of fiction (and rarely pay attention to movies), I was a little useless coming up with ideas when we were brainstorming. So I figured I'd toss the question out to you all: What are some of your favorite book and movie pairs?