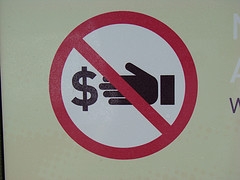 So on Tuesday, the Federal Trade Commission voted to update it's "Guides Concerning the Use of Endorsements and Testimonials in Advertising," which now require that bloggers disclose connections to advertisers, including payments or free products. I put legislating in quotes in the title because I think, technically, the only group that can "legislate" is the Legislature, and the FTC does something different… I just can't remember what that's called.
Initially, I was more than a little peeved about this, and I still have some big concerns about what this might mean. However, thinking about my own blogging and some of the dilemmas I've come across made me think that maybe this isn't the worst idea ever. But hear me out on this one…
Promotions and Endorsements on My Blog
About a month ago I got an e-mail offering me a free book in exchange for publicizing an online, book-related event on my blog. The book looked very good, so I wrote up a post mentioning the event. I also included a note that I was getting a free book in exchange for promoting the event. But I ended up not publishing the post, even with that disclosure, because I don't want my blog to be a promotion tool. That was a totally personal choice.
Over the next several days, I saw a number of blog posts also mentioning the event but none of them mentioned the free book in exchange for promoting it. I don't have any idea if those bloggers got the same e-mail offer I did, but I would think disclosing something like that would be important if they had. This hasn't changed my opinions of those blogs, I just thought it was interesting.
I think disclosing the sources of reviewed material is important. I don't think it's going to change anyone's mind about my blog to see that I do occasionally review books I got from publishers and I don't mind sharing I got the book for review. A blogger's reputation is built on the credibility and relationship they build with their audience, and for me an important part of that is being open with readers. So disclosing sources for reviewed material or promoted material is important, at least for me, and I'm confident people who hid relationships to dupe people will eventually be exposed in the online court of opinion — problem solved.
Highlighting Some Concerns
That said, I'm not sure I support the idea of requiring disclosure and I'm worried about how the FTC will think about this practice. I think the FTC doesn't understand a lot of what is happening between book bloggers and publishers, which could make their enforcement make no sense at all.
The interview that most concerns me was done by Edward Champion with the FTC's Richard Cleland. Champion and Cleland had a "civil but heated conversation," that's quite telling. Here's just one part that worries me:
Cleland insisted that when a publisher sends a book to a blogger, there is the expectation of a good review. I informed him that this was not always the case and observed that some bloggers often receive 20 to 50 books a week. In such cases, the publisher hopes for a review, good or bad. Cleland didn't see it that way.
Cleland went on to say that news organization critics are different because he expects them to be paid — by the news organization — and that news organizations money comes from advertising. News critics are somehow more credible that way.
This is partially true; newspapers do get a huge amount of their money from advertising, but there are lots of other economic forces at work on news organizations too. To think that news organization critics are always less biased than bloggers is, I think, misleading.
But by seeing what bloggers do as inherently endorsements, it just looks down on all the great things bloggers are doing. I hope that publishers don't expect good reviews when they send a book and want them to make that more clear.
I have anecdotal evidence publishers that backs up this hope. Earlier this year I reviewed a book by a smaller publisher and I didn't love it. I said so in my review, but also noted that the book isn't normally my genre and linked to other reviews to give more perspectives. I thought the review was fair and honest. A couple weeks ago I got a review offer from the same publisher with a book that seems more my style. I assume this means they found the review fair and think I'll do so again. I can't say if this is the attitude of all publishers, but I hope it is.
So What's My Point?
For now, I'm trying to withhold judgment on the whole idea. I hope the FTC doesn't just go off the handle fining people and making a big stink. And I hope publishers work with the FTC to help clarify the relationship they have with bloggers so this doesn't ruin what is a very cool, democratic and interesting way of learning about books. But I don't know if that's true, so for now I worry.
How do you feel about the disclosure rules? Is the FTC just requiring something people should be doing anyway? Should consumers just learn to be more skeptical of reviews they read, or is there some element of consumer protection here? Is the FTC setting up unfair differences between bloggers and news organizations?