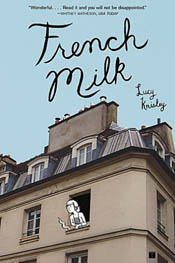 Title: French Milk
Author: Lucy Knisley
Genre: Memoir (format — comic)
Year: 2008
Acquired: Library
Rating:





One Sentence Summary: On the eve of her 22nd birthday, Lucy Knisley and her mother take a month-long vacation to Paris where Lucy keeps this diary.
One Sentence Review: French Milk is a unique comic diary/memoir, but doesn't really have an action-driven plot to speak of (which is fine, just needed to put it out there).
Long Summary: When Lucy Knisley was almost 22, she and her mom took a six week trip to Paris, France. They rented a small, oddly furnished flat, then used it as a base to explore the city. They ate lots of delicious French food, took in the sites, and shopped around the city. There was also some mother/daughter relationship stuff, some young woman trying to figure out her life stuff, and some people missing home stuff.
Wow, that's probably the worst summary in the history of book blogging!
Long Review: Despite my lackluster book summary, I did really enjoy French Milk. As a narrator and writer, Lucy is warm, funny, and self-deprecating. She appreciates the sites and sounds of Paris, but isn't afraid to share when she's upset, missing home, or feeling frustrated with her vacation. That sort of honesty was nice, and kept the book from being too sappy or cliched (especially given the other memoir I read recently).
I have always, always wanted to keep the sort of diary that Lucy keeps while in Paris. She mixes observations about culture, food, and herself with comic drawings and photos that capture a whole sense of what her trip was like. I, sadly, am a miserable artist, so often resort to writing and scrapbooking to approximate anything this cool.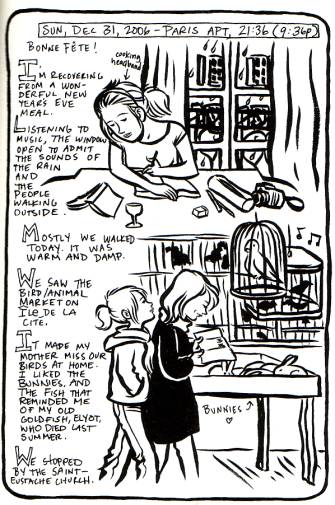 The drawing style is sparse, but also quite funny. I love the way she uses black and white, simple lines, to give a sense of scene and movement. The sparseness of the drawing also emphasizes this is a diary, almost practice drawings, that she just scrawled while laying on her bed or sitting at a cafe with a baguette.
Another feature of the drawings that I love are the arrows and commentary she includes. You get a strong sense of her personality through these notes, almost like another Lucy commenting on what the main Lucy is doing.
The thing is, not a lot happens in the book. Lucy and her mom go to Paris, they explore, they get homesick, they have a good time, and then they come home. There are tons of pictures of shopping and food and whatnot, but this isn't the sort of memoir that moves along because of action that's happening. If you're expecting exciting plot points or tons of action, you'll probably be a little disappointed.
But if you're expecting a sweet and funny comic diary about a girl going to Paris and getting to do all the awesome things you would do if you got to be a six-week temporary inhabitant of the city, then you'll enjoy this book. I certainly did.
Other Reviews: Beth Fish Reads; My Cozy Book Nook; The Boston Bibliophile; Pop Culture Junkie; Lakeside Musing; A Striped Armchair;
If you have reviewed this book, please leave a link to the review in the comments and I will add your review to the main post. All I ask is for you to do the same to mine — thanks!