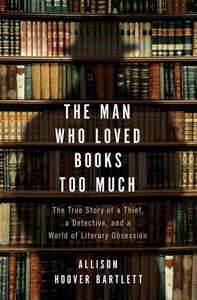 Title: The Man Who Loved Books Too Much: The True Story of a Thief, a Detective, and a World of Literary Obsession
Author: Allison Hoover Bartlett
Genre: Literary Journalism
One Sentence Summary: John Gilkey is a man who steals rare books, Ken Sanders is a bibio-detective dedicated to stopping Gilkey from taking more books, and journalist Allison Hoover Bartlett is trying to tell their story.
One Sentence Review: As a geeky journalist and book lover, there was almost too much for me to enjoy in this book; however, I think anyone who loves books would love this story.
Blogger's Note: I received this book as a free review copy from Riverhead Books.
Long Summary: John Gilkey is an average guy with ambitions to be something more than average. To make his dreams com true, Gilkey obsessively steals rare books. As a seasonal employee at Saks in San Francisco, Gilkey had access to the credit card numbers of patrons of the store. Over a few months, he collected these numbers then used them to make fraudulent purchases of rare books. By the time the card owner discovered the fraudulent purchase Gilkey would have the book and the book seller would be out of luck.
In his role as security chair for the Association of Antiquarian Booksellers Ken Saunders was in charge of collecting reports of stolen books and reporting them to other sellers to, hopefully, keep the stolen merchandise from changing hands. Over time, Saunders started to see books stolen using the same methods and, despite the fact that the books themselves had almost nothing in common, began his hunt for Gilkey.
In The Man Who Loved Books Too Much, journalist Allison Hoovert Bartlett tells the stories of Gilkey, Saunders, and the world of rare book sales. At the same time, she explores the ideas of obsessions and what compels people to spend hundreds of thousands of dollars on rare books, or perhaps just steal what they want.
Long Review: I sat down with this book on a Saturday afternoon and had it finished by Sunday. The book combines all sorts of things I love — journalism, books, crime — and packages them together in astory that's well-written and compelling. This is a book that I think all book lovers, whether or not you normally read non-fiction, would enjoy.
This book reminds me a little bit of Catch Me If You Can, the story of a thief and the man who's made it his life's mission to catch him. Except in this case, Bartlett the journalist is in the middle of the story, trying to make sense of the concurring obsessions that drive both Gilkey and Saunders to collect books (each in their own way). It's a soft, true crime book about a crime that those of us who love books might start to understand.
Bartlett is very much a part of the story – the arc follows her reporting process of discovering the story rather than the arc of Gilkey's crime spree and Saunder's detective work. I actually think this works well because there's this background journalist's obsession with narrative and collecting stories that I think parallels well with the main character's concerns. One scene I especially loved was when Bartlett was in the process of learning what it's like to be a collector. She considers getting first editions of some of her favorite narrative nonfiction books — In Cold Blood, The Spirit Catches You and You Fall Down, The Professor and the Madman, and The Orchid Thief. Those are some of my favorite pieces of literary journalism, which is so cool!
Additionally, having Bartlett in the story shows the complexity that journalists face when writing about crime – when criminals confess to a journalist, what ethical and legal responsibilities do journalists have to report those crimes? If they suspect a criminal is continuing to steal, as Bartlett does with Gilkey, what is her responsibility? And what responsibility does a journalist have to the victims of a crime versus the responsibility of telling a good story? As a journalist, I found these musings truly fascinating, but I think anyone could find them interesting and might come to different conclusions that Bartlett ultimately does.
The book also muses on the issues of obsession and collection more generally, trying to discover what it is about books that will make people spends thousands of dollars to buy first editions or place value on almost worthless books with an emotional or personal impact. Who decides the worth of a book – a collector who claims it has monetary value, or an owner who passes a favorite story from grandmother to mother to daughter? The book never definitively answers, but there is pleasure in simply musing on the questions.
In the end I'm sort of stuck on the journalism aspects of the book because that's something I love, but I do think this is a book that any book lover would appreciate. I read and collect books for very different reasons that Gilkey and Saunders do, but I think I share a belief with both of them that books represent something intangible and special. What that thing is, I don't exactly know, but this book has a fun time trying to figure it out.
Other Reviews: BookNAround; S. Krishna's Books; Word Lily; Book Tumbling;
If you have reviewed this book, please leave a link to the review in the comments and I will add your review to the main post. All I ask is for you to do the same to mine — thanks!