All of the recent Halloween reading challenge posts are making me covet a new monster book to read. The one monster book I know and love is Frankenstein by Mary Shelley, a book I've read so many times I consider myself a bit of a nerdy expert on it. And the best part of that book is that it continues to inspire new books I want to read, hence my current coveting. But I'll get to that in a bit.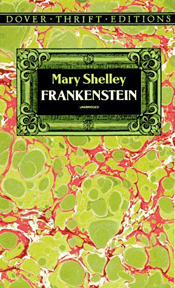 The first time I read Frankenstein I was in 10th grade. My honors English class was reading the Dover classics edition of the book. My most distinct memory of that reading was when one student compared the book to one of those little dogs with lots of puffy fur — a lot of fluff, but not much there. It's a somewhat apt description of the level of Romantic scene setting and imagery in the book, but obviously misses the bigger point of the novel and why it's a classic. Unfortunately, 10th grade me didn't appreciate it as much as I should have.
My second reading was for my freshman seminar class which looked at how Frankenstein has been used in literature and film. So we read the original, talked about the themes and motifs, and then watched a lot of Frankenstein movies like the original 1931 movie, Young Frankenstein, and Mary Shelley's Frankenstein starring Kenneth Branaugh. Watching the way the book gets changed to reflect anxieties of the time regarding science, nature, and the idea of humanity.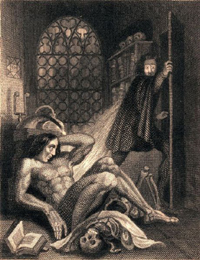 The last time I read Frankenstein was as part of my senior seminar class on rhetoric and narration. We spent a lot of time on how Frankenstein is a frame narrative with The Monster's story framed by Frankenstein which is framed by Walton. When you look at the sort of boxes within boxes that the story gets told from, the book really becomes a classic. Mary Shelley was 18 when she wrote this story, yet she's easily mastered this complicated narrative framework. I really admire that.
So, Frankenstein is an important book to me. I've read it so many times it's one of the books I feel like I know the best. And it's a book that I appreciate for how much it's impacted literature and pop culture and society since it was written.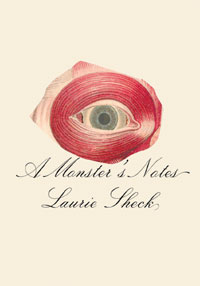 Which finally leads me to the book I'm coveting at the moment, A Monster's Notes by Laurie Spark. The book is another re-imagining of the Frankenstein story, this time from the Monster's perspective. Mary Shelley meets the monster when she is a young girl which inspires her future novel. The Monster writes the book includes his notes trying to understand human culture and shows the path of Mary Shelley's life.
This book sounds fascinating to me because of how it combines all of the things I love about Frankenstein — the complex narrative structure, the themes on science and creation and humanity, the Monster as a character to be both feared and appreciated. I can't wait to see how those things come together.
It's gotten mixed reviews so far, but I got a great recommendation from a friend who also read Frankenstein during our senior seminar. I trust his impressions of books that mix themes and genres, so I'm coveting this book. Too bad the hardcover is $30 — that's just too much for a book for me right. But there's the library, and when it's out in paperback, trust me, I'll be getting it.
Are there any books you find yourself reading so often you feel like you know them? That you could explain what the book is about and why it's important? Is there a book you come to appreciate more each time you read it?