I have three sorts of things I want to write about for Sunday Salon today, so I broke them into clever alliterative headings. "Books" is about my reading life this week, "Blogging" is about some minor changes to Sophisticated Dorkiness, and "My Broadcasting" is about some writing I had published around the web this week. Happy Sunday!
Books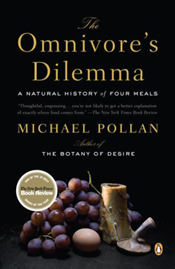 First, some musings on my bookish life. It's been another slow, slow reading week around here. I'm working through The Omnivore's Dilemma by Michael Pollan and listening to Animal, Vegetable, Miracle by Barbara Kingsolver. It's an interesting compare and contrast; they're both about food and food systems, but so far each book puts very different values on the issue. Kingsolver's book resonates with themes of family, locality, and personal responsibility. Pollan's book, in contrast, thinks more about farmers and larger cultural and political changes. I love the differences, even if I can't articulate their importance just yet.
I'm also reading The Djinn in the Nightingale's Eye by A.S. Byatt for book club, which might be meeting next week. I chose this book because I had it on my shelf and wanted to read some Byatt. It's a book of fairy tales, which are fun to read, but so far I'm not sure how discussable they are. I haven't found a lot of controversy or things people may react strongly too, but I'm only about half way in. There might be more there in the future.
Blogging
And now for blogging! I've decided that, for the moment, I need to start posting a little bit less. I feel like I've neglected some of the other responsibilities there are in the book blogging community, namely commenting and interacting on other blogs, in favor of writing here on my own. I've not been reading other blogs and much and I miss that.
Plus, I don't like writing really short posts and long posts take a long time to write and edit. I like writing lots about the books I read and I like writing long posts musing on issues of books and journalism and blogging and reading. I want to focus on that rather than posting shorter things less often.
So for the next several months, at least, I'm going to move to only posting 3, possibly 4, times a week. I'll miss getting new comments everyday on new posts, but hopefully with longer posts and more interaction I'll start getting more comments which will make up for that. We'll see… in either case, it'll be a newish direction for the blog that I'm experimenting with.
My Broadcasting
Ok, what I really mean is writing, but that's the best alliterative synonym I could come up with. I had another blog post about brain imaging and breakfast cravings published Eat. Drink. Better., so check it out if you're interested.

I also covered the Wisconsin Book Festival for a local blog, Dane 101. I wrote a preview of the festival, then some reviews/stories from a couple panels I went to. The first panel was Jonah Lehrer, author of How We Decide and Proust Was a Neuroscientist. His speech was fascinating, although Boyfriend thought it was simplistic (but he studies psych and neuroscience, so whatever). I also went to a reading with two YA novelists: Laura Schaefer (author of The Teashop Girls), and Claudia Guadalupe Martinez (author of The Smell of Old Lady Perfume).  Bboth Laura and Claudia were such fun to listen to!
Conclusions
If you read this far, thank you! That's a lot of stuff to cover, but life is sort of busy that way. Now I want you to fill me in on you: What has been going on in your book-ish, blog-ish, or other-ish life this week?