Last week a friend slept on my couch over a night on a drive from the Twin Cities down to Louisville, Kentucky. I had homework, sadly, so we spent a quiet evening around the apartment. As it turned out, he forgot the book he was reading in his car, so I got the chance to make a book recommendation from my shelves and shelves of books.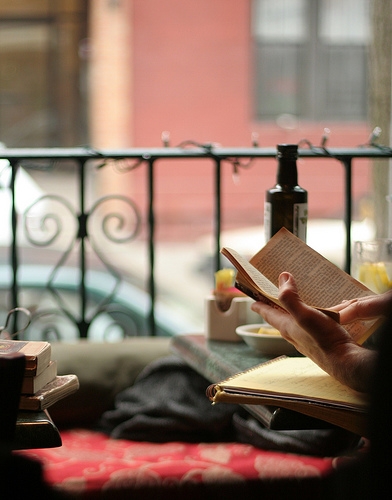 He's an English and grammar nerd like I am, so I recommended The Professor and the Madman by Simon Winchester. My friend said he loved it, enough to buy his own copy of the book when he got back home — recommendation success!
Since I live away from most of my good friends, I don't get to make reading recommendations in person very often. So getting the chance was really exciting — I felt like I had done a good deed, or something.
What's your most successful recent book recommendation? Do you find yourself making recommendations people don't take, or do your friends trust your judgment?
I'm not sure what the picture has to do with the post but I thought it was just beautiful. Check out the rest of her photostream if you have time, it's quite lovely!