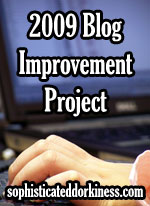 Part of BIP Week #20 was to leave suggestions about how to do Random Acts of Kindness around the blogosphere. I promised to do a wrap-up post of some of the best ideas, so here it is. Be inspired to be kind!
Bloggers Acts of Kindness
Anastasia (Bird Brain(ed) Book Blog) suggested "If someone links to one of your reviews, you should edit your post to link to their review in return. It seems kinda obvious, but I think it's a nice gesture."
Jeanne (Necromancy Never Pays) suggested a couple of great ideas:
What about leaving a comment on as many blogs as you can read during the week just telling the blogger that you're there? Everyone loves de-lurkers.

And what about leaving your favorite bloggers a comment telling them what you like best about their blog and hope they'll continue doing?
Kathy (Bermudaonion's Weblog) made some suggestions I hadn't thought of yet:
Stumble posts that I think are particularly good.
Leave comments, especially on new blogs.
Link to other blogs when appropriate.
Pass on books to other bloggers.
Purchase through other bloggers links when I do buy on line (which isn't very often).
Louise (Lous_Pages) did some recent posts highlighting bloggers she found interesting or posts that were especially unique. Head over to her blog to look at some of the others.
Blinkingmouse (@blinkingmouse) used the idea of individual #followfridays to highlight some of her favorite bloggers. If you click the link to her Twitter feed you can see who was mentioned — I thought this was awesome!
If I missed anyone, please please please let me know! I'm doing this late and I feel like I might have forgotten someone… I just can't remember who!
Future Kindness Ideas
I'm still not sure if I'm going to continue the BIP next year, but this is one topic I really love. Random Acts of Kindness Week was always a big deal at my old campus — students groups would offer free things for people to mail to each other and we generally had a good time with it.
If I organized a Random Acts of Kindness Week activity or challenge in February (when Random Acts of Kindness Week actually happens), would people be interested in participating?