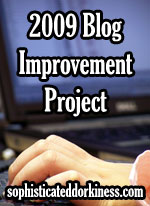 So this is about a week late, and for that I apologize. As I mentioned in a previous post, last week just got away from me and I didn't have time to think about the BIP until about Thursday night. I decided to wait until today to post so there was more time to do Random Acts of Kindness, and so we can take the week of Thanksgiving off from BIP projects.
One topic I've wanted to do for awhile now but kept skipping over was guest posting. Guest posting is a good way to do a lot of the things other BIP tasks worked on — connecting with other bloggers, promoting your blog, and leaving and responding to comments.
There are two ways to think about guest posting — soliciting guest posts for your blog from readers (or authors, whatever) or offering to write a guest post for another blog. This week's task is going to focus on how to pitch and write a guest post for another blog, since I think that process can be a little more intimidating than asking for guest post for your own blog.
Articles and Resources
I found a few articles that expand on the basic steps of pitching and submitting a guest post. This piece from ProBlogger, How To Be A Good Guest Blogger, has good advice, and if you scroll to the bottom you can read an entire series of posts on the idea of guest posting.
You can also read How NOT to Get a Guest Post Published on a Blog, which includes 11 mistakes to avoid. Some are obvious (using someone else's content), but others I hadn't thought of (writing on ideas that the host blogger doesn't agree with).
One of the benefits of guest posting is that you can try to convince readers to go and check out your blog. Blog Authority gives these suggestions for how to help get readers from the guest post site to your blog. I'm sure I'm not the only one who has added blogs to my reader after enjoying a really good guest post.
The Task
So basically, pitching a guest post is relatively simple. Here's the basic process and the task:
E-mail the blog author to introduce yourself and tell them what you want to write about
If they say they'd like the post, go ahead and write it up then send it back to them.
After the post is published, it's a good idea to pay attention to the comments so you can respond to questions or interact with readers.
You should also promote the guest post (on your blog, on Twitter, whatever).
Ideas Where to Pitch Guest Posts
Off the top of my head, I can think of two book blog related sites that I know welcome guest posts: Weekly Geeks and the Women Unbound Challenge. I think Buy Books for the Holidays also does, but I haven't been able to confirm that. If you're nervous about this task, those are three book blogger friendly places to try.
Edited To Add: The Really Old Classics Challenge is also looking for guest posts. This would be a great one if you love to read old books and have some suggestions about how to do that.
That's not to say other places are not friendly, just that these are ones I know about. Feel free to add others in the comments and I'll update the list with other blogs or sites that are actively looking for guest posts.
Once you've pitched your post, leave a comment letting us know how it went or leave a link to the guest post. It'll be cool to see how many guest posts can happen based on the work from BIP participants!