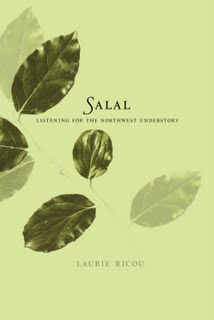 Title: Salal: Listening for the Northwest Understory
Author: Laurie Ricou
Genre: Nonfiction
Year: 2007
Acquired: Free from publisher for review
Rating:





One Sentence Summary: Salal is a travel story and literary exploration of a common plant that often gets ignored.
One Sentence Review: The book is a little hard to get in to, but ends up being a readable journey about how a single plant can help illuminate the history and culture of a region.
This review is part of the Green Books campaign. Today 100 bloggers are reviewing 100 great books printed in an environmentally friendly way. The goal is to encourage publishers to get greener and readers to take the environment into consideration when purchasing books. This campaign is organized by Eco-Libris, a  a green company working to green up the book industry by promoting the adoption of green practices, balancing out books by planting trees, and supporting green books. A full list of participating blogs and links to their reviews is available on Eco-Libris website.
This book was printed on recycled paper by NeWest Press.
Long Review: It took me a really long time to figure out how to describe this book. In fact, as I sat down to start the review I still wasn't sure how to explain because the book a hybrid of many kinds of books. But as I was flipping through the author's acknowledgments I found this description:
some hybrid text imagined as a horticultural-literary ethnography
That's a nearly perfect way to describe this book, which is unlike most other books I've read lately.
The author is an English professor at the University of British Columbia who described his quest in writing the book as a journey to see where exploring the idea of salal, common plant found in the understory of many forests in the Pacific Northwest, might lead him and whether, using as many references to the plant as he could, if he could gather a story about regional culture.
I was both excited and skeptical of his premise. On the one hand, I'm developing a personal philosophy that anything, no matter how insignificant, can be made interesting if you have a good storyteller. What better way to test the theory than on a book about a plant I wasn't sure I'd ever even seen?
But the author's description in the introduction of his reporting style had me a little worried. Ricou explained that his method to write the book was mostly to find as many allusions to salal as he could and compile them. He also noted that he "resisted" using conventional structure to frame the book because he wanted to show the endless interconnectedness of salal to everything around it.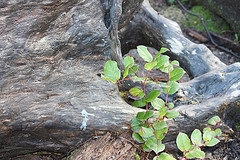 That plan seemed like it could work, or it could end up with a book that had no idea where it was going.
The book fell somewhere in the middle for me. After I got into it, I started to not mind the meandering nature of the story and started to just appreciate the moments when there was an unexpected anecdote or use for salal that I recognized. There might have been a better way to tell the story, one that would have given the book a straighter path, but the meandering walk worked pretty well too.
My favorite parts were the sections Ricou spent exploring literary and cultural references to salal. Even if I didn't know the book or work, his explanations were clear and his analysis was insightful. The literary references felt like Ricou was just sitting down and chatting about a poem with the reader — a tone that works well.
I wasn't as impressed with his choice of how to use his interviews. In the introduction Ricou said he decided early on that "the salal-tellers should 'talk' with a minimum of mediation. I wanted the voices to be heard in their own distinctiveness." While I appreciate that sentiment, I didn't think it was a great choice for the book. Voice can be accomplished even with editing from an author, so I wish Ricou would trimmed and edited rather than using quotes that were sometimes three or four pages long. When the interviews rambled, it let a book already threatening to get lost meander even further off the narrative path.
That said, I enjoyed reading this book, both for the information and for the form it tried to use. Sometimes I get so bogged down in writing that uses consistent storytelling outlines and techniques that it's jarring to pick up something new. I appreciated that this book tried something different, even if it didn't always work exactly as expected.
Image Credit: Green Books logo by Susan Newman; Salal picture by Preconcious via Flickr