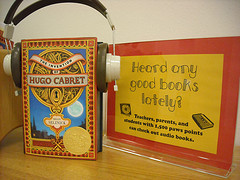 Over the summer I traveled from Madison to Minnesota at least five times (I must have blocked out the exact number). Since then, I've gone home at least two more times. The best thing about those trips was discovering that yes, I can listen to audiobooks!
Before my long, solo car rides, I'd never been able to really enjoy audiobooks. Going to and from school is too short, and I get distracted listening to books while I try to clean or cook. But car rides offer no distractions, so I used the time to get through some books I was dying to listen to but hadn't had the time to read.
But I also didn't know how to review audiobooks, so I put those off for most of the summer which resulted in a backlog of audiobook reviews. When I discovered how many I had, I decided to publish all of them consecutively and have an audiobook celebration for the next couple of weeks. So for the next couple weeks I'll only be posting audiobook reviews. Exciting!
Welcome to Audiobook Week(s), and Sophisticated Dorkiness will be back to it's regularly scheduled programming around December 14!
Do you like listening to audiobooks? Why or why not? What's your favorite (or least favorite) audiobook and why?