I have three different set of to-be-read books in my apartment — the fiction shelf, the nonfiction bookcase, and the "books I want to read right now" pile sitting on a chair by my desk. Every time I sit down to blog or do homework or just fiddle away time on Facebook, the growing pile of books I want to read immediately mocks me.
I really, really want to do something about this pile.
For about a month now, I've been telling myself that I'll get through this pile when I finally get to Winter Break (December 20 – January 18, about). But that might be a lie too. I'm going to be at home for most of break, and when I'm home I never seem to read. I get distracted by stupid things like NCIS rerun marathons on the USA Network or pretending I'm a surgeon on my Nintendo DS.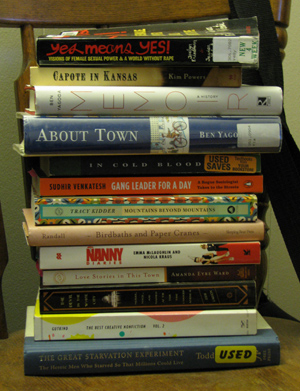 How, I wondered, can I prevent myself from wasting my break so I get done with it and still have a massive pile of books that demand my attention RIGHT NOW?
Why, a personal reading project, of course! (Some might call this a challenge, but I resist that term. It stresses me out.)
I'm still working out the details, but basically my goal is going to be to read 3000 pages over the 30 days of my winter vacation (extending the idea of winter vacation just slightly into next semester). For most books, I read about 60 pages an hour, so that will be about 50 hours of reading over my entire break. That's not easy, but it's certainly possible.
I still haven't decided if I'll count audio books, and if I do how I will count them. I'm also not sure how formal I want to make this — certainly not daily updates, but some sort of accountability might be nice. And I want to make a nifty little graphic, I just haven't done that yet either. But it's a germ of an idea still, so it's ok I don't have it all figured out.
But anyway, enough of this. I have a ton of homework to get done before Thanksgiving, and even more to get done before I can think about reading away all of my winter break. Does anyone else in school feel like this week was the week that you-know-what hit the fan? Bah!
Anyone else have a pile of books demanding to be read immediately? What's your plan to lower the pile? How has your week been?