I've been on the waiting list for Catching Fire, the second book in Suzanne Collins Hunger Games series, for like six months now. I went to the library yesterday to pick up another book and discovered the book finally came for me! Yay!
So instead of working on a paper while I babysat last night, I just sat down and read the book straight though. I didn't like it as much as I liked The Hunger Games, but second books in a series are tough. They have to continue the story, but they have to leave enough open to justify another book in the series. So second books are rarely my favorite anyway.
But, it's impossible to deny that Catching Fire is compulsively readable and certainly made me want to get the third book when it comes out (when is it coming out??). I think the way Collins wraps up all the politics and stories and people is going to be awesome.
I don't feel like reviewing the book since I'm probably the last person in the world to read it, so instead I'm just going to do some random thoughts. The rest of this post is full of spoilers. If you haven't read Catching Fire, you plan to read it, and you hate spoilers, STOP READING NOW! I'm warning you, for real, stop reading.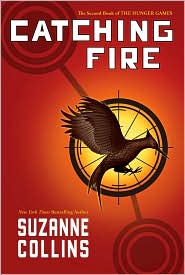 Are you sure you want to keep reading? I'm serious about the spoilers. They start right now and I have lots of questions. Let's discuss!
First of all, President Snow is a scary, scary guy! I would not want him around if I could help it. And all those Capitol people, ugh. Terrible. I hope seeing the victors get slaughtered will kick them into gear to help the rebellion.
And oh my gosh, they sent Katniss and Peeta and the other victors back to The Hunger Games? What? I did not see that coming at all. Do you think that really was the instructions in the Third Quarter Quell or did President Snow mess with the process in order to get back at Katniss and try to quell rebellion?
And Katniss, oh Katniss. She's so oblivious to what's going on around her sometimes, it's aggravating. I know Haymitch and the others keep things from her, but sometimes I think she doesn't put things together enough. Or maybe refuses to put them together. I'm not sure. And her romances, what to say about that?
I'm not sure I'm really on board with Team Peeta or Team Gale. I mean, Katniss seems to love both of them in different ways. But I also don't think she really knows what love is or has had the chance to look at all of it and figure out what she wants. The Hunger Games have messed with her emotions so much I don't think she's ever had the chance to just sit down and decide what she wants. For people already on Team Gale or Team Peeta, why did you pick one wonderful guy over the other?
I loved Cinna in this one, not making Katniss be anything other than the powerful warrior she can be. The entrance and the costume and the wedding dress that turned into a mockingjay were awesome. I would love to see those costumes in a movie. Actually, this series would lend itself really well to film, I think. Thoughts?
And what is going to happen in the next book? I'm not sure I can even speculate. Obviously they've got to try and save Peeta, and get to District 13, and then eventually take on the Capitol. And Katniss is going to have to step up and be the symbol of the rebellion, although I really want her to find herself so she can be more than just a pawn. I think the realization at the end that even her allies were using her might spur that change, but I hope she doesn't do anything foolish.
What else? Oh yeah, the pregnancy! What are they going to do about that? The baby is going to be a symbol too, but Katniss isn't pregnant and Peeta isn't around to get her pregnant… that's going to be a sticky one. I hope there are no fake pregnancies. That would annoy me. But that whole issue is a big deal.
So that's what I've got. There's still so much to talk about! Talk to me, answer my questions, what was going on with this book? As good as the first? What do you think of what happened? What are your speculations for the next book?