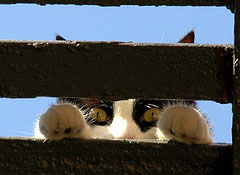 I think the crazy kitten picture is going to be my default image for when the world is making me feel crazy — I love that picture 🙂
For whatever reasons, blogging has not been a top priority for the last week or so. I've had school and personal stuff and some general laziness and panic about the fact that it's November — all things that have contributed to a general brain-freeze when it comes to writing posts and reading blogs. Excuses, excuses.
Right now, I have more than 600 unread posts in Google Reader, just from book bloggers. I've gotten better about not letting unread post counts bother me, but today that number is making me anxious! So I did a "Mark All As Read" for all of my book blogs folder because I need to start fresh.
That said, I know I missed some really great posts. So I'm asking you, dear readers, to leave me some links to visit. What was your best post over the last week? What's the best post you've read from another blogger? Leave me a link and I'll go read — I want to know what's been happening!